Viet Nam follows prudent and effective fiscal and monetary policies in 2022
VGP - Viet Nam followed prudent and effective fiscal and monetary policies in 2022, emphasized Professor Jonathan Pincus, UNDP Senior Economist in a recent interview with VGP.
January 04, 2023 10:54 AM GMT+7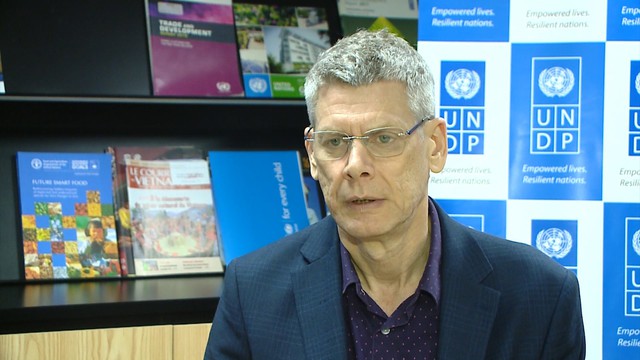 According to Jonathan Pincus, Viet Nam used price controls to prevent higher fuel prices from creating higher inflationary expectations and used foreign exchange reserves to support the value of the Vietnamese Dong in the face of a strengthening US dollar.
The Vietnamese Government did its best to make sure that the US dollar market remains stable so businesses can get access to sufficient supplies of foreign exchange.
In October, the Government widened the band within which the VND trades, allowing more flexibility. Hopefully the greenback will settle down and it will be less costly to keep the exchange rate steady.
During the pandemic, the Government relied heavily on monetary policy, for example lower interest rates and allowing banks to roll over credits.
This is preferable to using administrative means to suppress currency trading, and the Government should be congratulated for taking this approach, highlighted Jonathan Pincus.
Regarding the nation's economic performance in 2022, the UNDP Senior Economist said that Viet Nam's economy recovered well in most fields and localities during 2022.
The nation's economic performance is among the strongest in the region and the country should be proud of economic performance this year, he highlighted.
Economic growth for the year is estimated to reach 8.02 percent while average inflation increased by 2.59 percent; exports increased by about 10.6 percent; final consumption increased by over 19.8 percent and investment increased by about 11.2 percent.
There was a strong recovery in industrial production, especially garments, footwear and vehicles. Mobile phone production was down but exports for the year are up. Domestic market recovery was strong for food and beverages. The return of hospitality was a major boost to the economy.
The main reason for this performance is that Viet Nam adjusted quickly to the COVID-19 pandemic, which enabled economic activities to return to normal.
In addition, the country's economic recovery policies patiently and persistently created macroeconomic stability and controlled inflation and the growth indicators mentioned above correlate with the relatively low values of the previous year.
Professor Jonathan Pincus talks about Viet Nam's fiscal and monetary policies in 2022
Viet Nam's exports remain stable in 2023
Referring to economic prospect in 2023, Jonathan Pincus said that the International Monetary Fund (IMF) forecasted that Viet Nam's economic growth of 6.2 percent next year and rising in the following years and inflation peaking at about 4 percent next year. These would be good outcomes.
The world demand will be squeezed in 2023 and that will have an impact in Viet Nam's economy as the nation is a really strong exporting country. However, the UNDP Senior Economist supported that exports will remain stable next year.
The UNDP Senior Economist noted that the challenges for Viet Nam's economy in 2023 are mainly external.
The U.S. and Europe are heading into recessions, probably much deeper and longer in Europe because of restricted gas supplies and higher energy prices. In the U.S., inflation is still high and so most people expect the Federal Reserve to tighten monetary policy.
Higher energy prices could still contribute to inflation in Viet Nam, and will put pressure on the currency and the balance of payments as the cost of importing energy increases.

This will probably mean that interest rates will remain elevated next year, it is possible that higher interest rates and tighter credit could cause some distress in the property markets and other asset markets.
The State Bank of Viet Nam will need to make sure that the supply of greenbacks to the market is sufficient to avoid hoarding or illiquidity, he recommended.
The country's opportunities in 2023 are mainly from its internal resources, said Jonathan Pincus, suggesting that Viet Nam should use fiscal policy effectively and enhance the efficiency of public investment projects.
Public investment has accounted for 7 percent of the total GDP value, which is good and relatively high in comparison with other nations in the region.
He recommended Viet Nam should invest in large-scale public investment in projects in areas of digitization, broadband Internet connections, better linkages between road transport, rail transport and air transport, which are critical importance for economic growth.
Viet Nam needs to develop its social protection system to be able to support domestic demand on short notice while public investment also needs to be streamlined, reiterated Jonathan Pincus.