UNDP pledges to help Viet Nam improve climate change adaption capacity
VGP - The United Nations Development Program (UNDP) always stands ready to provide policy consultancy and mobilize resources for Viet Nam's new development phase to help the country improve its climate change response capacity, promote energy conversion process and overcome bomb and mine consequences.
May 17, 2022 10:32 PM GMT+7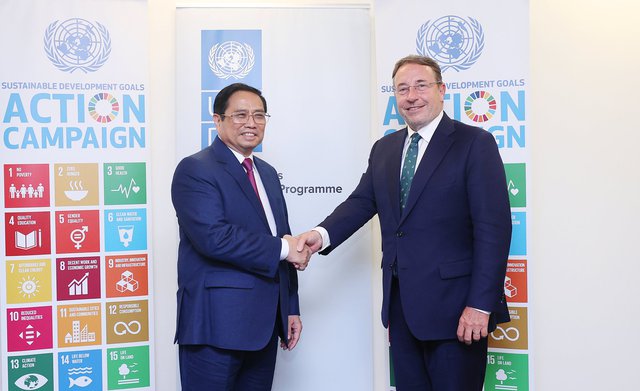 Steiner made that above statement in his meeting with Prime Minister Pham Minh Chinh in New York, the U.S. on May 16.
Accordingly, the UNDP will assist Viet Nam in building socio-economic development policies and strategies in a greener, more sustainable and inclusive manner and attracting investment, finance and green technology, Steiner said.
For his side, PM Pham spoke highly of the recently-approved Country Program for Viet Nam for 2022–2026, focusing on such areas of green and sustainable socio-economic development and enhancement of climate resilience.
The PM said that he would direct ministries and agencies to closely coordinate with the UNDP to launch the program and continue policy consultation and technical cooperation with the UNDP in fields of transition into a green economy, carbon neutrality and post-COVID-19 socio-economic recovery in a greener and more sustainable manner.
Pham recommended the UNDP continue providing technical assistance for Viet Nam to reach an agreement on establishing energy transition partnerships with G7 nations.
Pham suggested the UNDP support Viet Nam to develop a strategy for mobilizing climate financing from development partners as the country needs around US$350-400 billion to achieve net-zero carbon emissions by 2050.
He lauded the UNDP and other partners for actively sponsoring Viet Nam to carry out a number of bomb and mine remediation projects, expressing his hope that the UNDP will actively help the nation in fields of finance, technique, capacity building and experience sharing in this sector. /.