UN: VN's economy to expand 5.8% in 2010
VGP – Việt Nam's economy has exhibited a sharp V-shaped rebound from the global economic turmoil and is expected to surge at 5.8% in 2010, forecasted the United Nations.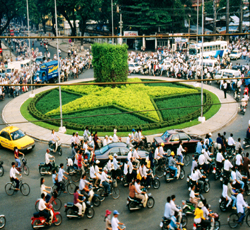 Illustration photo
The United Nations Economic and Social Commission for Asia and the Pacific (UNESCAP) made the forecast in its latest report titled "Economic and Social Survey of Asia and the Pacific."
In the face of the worst global economic downturn in the region, Việt Nam's economy showed relative resilience compared to other economies in the Southeast Asian region.
In 2008, Việt Nam grew at a brisk 6.2%, with inflation hitting 23%; combined with a current account deficit running at 11.9%, fears of overheating were raised. In January of 2009, as a result of the crisis, exports fell by more than 20%.
According to the report, the Vietnamese Government responded to the global crisis with an aggressive fiscal and monetary policy, and growth in 2009 reached 5.3% year-on-year.
Especially, the State Bank of Việt Nam devalued the đồng by around 5% in late November 2009, and a further 3% in February 2010, given the strains in the balance of payment deficits. In addition, Việt Nam offered support for credit but did so through a temporary interest rate subsidy of around 4% on certain bank loans.
Like Indonesia, Việt Nam announced programs that combined spending on infrastructure with programs for poverty reduction.
By Kim Loan