UN pledges to support Viet Nam's development priorities
VGP - The United Nations (UN) will continue supporting Viet Nam's priorities towards green and sustainable manner and equitable energy transition.
September 24, 2022 7:39 PM GMT+7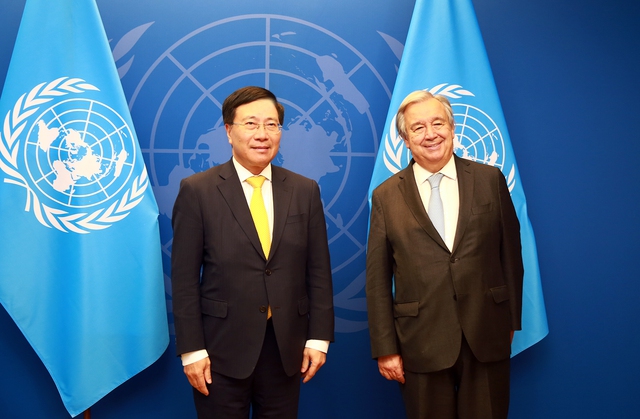 UN Secretary-General Antonió Guterres made the above statement during his reception for Standing Deputy Prime Minister Pham Binh Minh in New York, the U.S., on September 23 (local time).
Antonió Guterres expressed his delight on Viet Nam's achievements in socio-economic development and spoke highly of active and responsible contributions of Viet Nam to common works of the UN.
He expected that the Southeast Asian nation will uphold its role and make more contributions to handling global issues.
For his part, Pham reiterated that Viet Nam strongly advocates multilateralism and the central role of the UN in global governance and coordination of efforts to address common challenges.
He called for doubling efforts to make the UN more effective and hoped that the UN would have sufficient resources to meet expectationsof its member countries.
Pham re-affirmed Viet Nam's commitment to joining hands with other member countries and the UN in fostering crucial common agendas, including the implementation of Sustainable Development Goals (SDGs) and peacekeeping activities around the world.
The nation is actively realizing its goal for net-zero emissions by 2050, which was announced at the COP26, he said, suggesting the UN help the nation build the Just Energy Transition Partnership (JETP).
The same day, in his meeting with the Vietnamese Deputy PM, President of the 77th session of the UN General Assembly Csaba Korosi said that Viet Nam is a model for economic growth in association with environmental protection.
The UN attaches importance to the contributions of Viet Nam, he stated, expressing thanks to the active role of the nation in realizing the SDGs.
He shared priorities on water management and hoped to further collaborate with Viet Nam in this sector, highlighting the need to promote measures to prevent water crisis, establish a database system on water at both regional and global levels and integrate national policies on water and climate change.
Csaba Korosi expected that Viet Nam would take part in and share experiences at the UN 2023 Water Conference, which is scheduled to be held in March next year.
For his side, Pham highly hailed the topic and priorities of this session, asserting that Viet Nam, as the Vice President of the UN General Assembly's 77th session, will make practical contribution to the success of the session.
He voiced support for the initiatives and proposals of the President of the 77th session of the UN General Assembly, adding that Viet Nam considers water as a crucial security issue.
The country does not sacrifice the environment for economic growth but seeks for balance between economic growth and environmental protection, the Deputy PM stressed.