Two more Vietnamese fruits allowed to export to New Zealand
VGP - Viet Nam and New Zealand signed an agreement on exporting Viet Nam's pomelos and limes to New Zealand besides mango, dragon fruit and rambutan, raising the number of fruits allowed to enter the New Zealand market to five.
November 17, 2022 10:17 PM GMT+7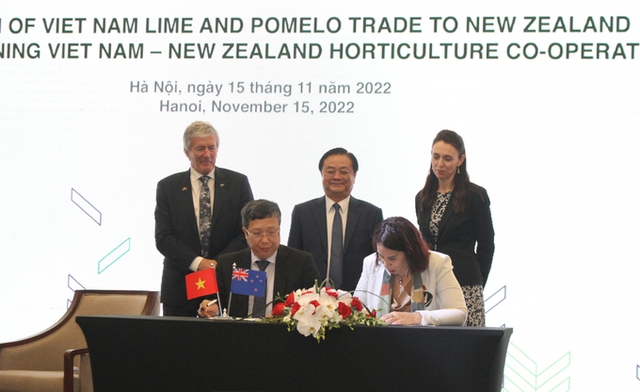 The signing ceremony was held within the framework of the "AgriConnectioNZ: New Zealand and Viet Nam–Strategic Partners in Agriculture Expo" in Ha Noi.
The signing ceremony was witnessed by New Zealand Prime Minister Jacinda Ardern, along with New Zealand Minister of Agriculture, Trade and Export Growth Hon Damien O'Connor and Vietnamese Minister of Agriculture and Rural Development Le Minh Hoan.
Addressing the event, New Zealand Ambassador to Viet Nam Tredene Dobson said today's event marked a milestone in the agricultural co-operation between the two countries.
Agriculture is not just a critical component of our two countries' economies – it is part of our cultural identity, she noted.
"New Zealand and Viet Nam are natural partners in the agriculture sector as we navigate a changing world that presents great challenges and even greater opportunity," added the Ambassador.
She welcomed Vietnamese pomelos and limes into New Zealand, and looked forward to future opportunities to supply more of NZ delicious, high-quality fruit to Viet Nam.
Earlier, at the talks between Prime Minister Pham Minh Chinh and New Zealand's Prime Minister Jacinda Ardern in Ha Noi held on Monday, they agreed to further open up their markets for agricultural products in a bid to raise the two-way trade to US$2 billion by 2024.
Viet Nam is currently the 16th largest trade partner of New Zealand. The bilateral trade value increased from US$300 million in 2009 to US$1.3 billion last year.
In the past nine months of 2011, the two-way trade hit US$1.1 billion, a year-on-year increase of 13.6 percent.