Two more COVID-19 patients in VN die
VGP – The other two COVID-19 patients in Viet Nam died on July 31 and early August 1, raising the number of coronavirus deaths in Viet Nam to three, according to Deputy Minister of Health Nguyen Truong Son.
August 01, 2020 2:56 PM GMT+7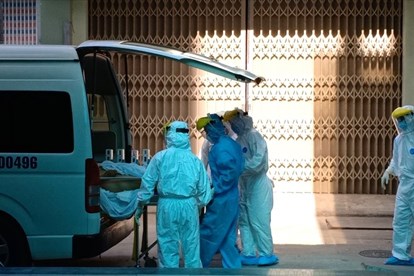 As of August 1, Viet Nam confirms three deaths of COVID-19.
The 61-year-old male resident of the central city of Da Nang (patient 437) died of septic shocks on the basis of other serious illness and COVID-19 on late July 31.
The patient had had chronic kidney failure, hypertension, diabetes and gout before he was found to have COVID-19 on July 27 at Da Nang Hospital.
A 68-year-old woman (patient 499) with leukemia was confirmed dead on early August 1 at Da Nang Oncology Hospital in the central city of Da Nang.
The patient died of blood cancer at final stage, severe pneumonia and COVID-19.
She was admitted to Da Nang Oncology Hospital on July 28. She also had hypertension and diabetes.
Earlier on early July 31, a 70-year-old man residing in Hoi An City, Quang Nam Province, (the 428th COVID-19 case) was confirmed as the first causality of COVID-19 in Viet Nam.
The patient had a history of hypertension, cardiac ischemia, heart failure, and pneumonia. He had been sampled and confirmed positive for SARS-CoV-2 on July 27.
The National Steering Committee for COVID-19 Prevention and Control on early August 1 has confirmed 558 COVID-19 infection cases in Viet Nam, 373 of whom have been cleared of the virus and recovered their health, accounting for 66.8%.
By Thuy Dung