Two coronavirus hotspots fundamentally put under control
VGP – The new COVID-19 outbreaks in Chi Linh City (Hai Duong province) and Quang Ninh have been properly handled as no new cases have been confirmed over the past two days, according to a senior advisor.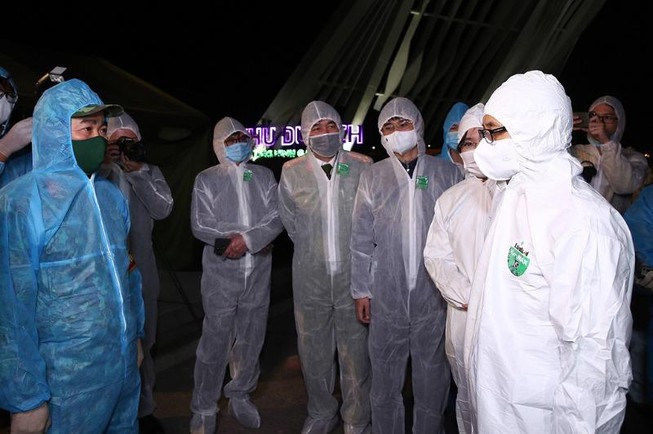 Deputy PM Vu Duc Dam (1st from R) inspect disease checkpoint between Dong Trieu commune and Chi Linh City at the National Road 18
Mr. Tran Dac Phu, senior advisor at the Public Health Emergency Operations Center under the Health Ministry reported that the number of newly transmission cases have been on the decline over the past three days. Noticeably, the two localities recorded zero community transmission cases in early Monday.
Though the outbreaks have been properly put under control, high risks of resurgence still remain, said Phu, suggesting that local residents seriously comply with the Ministry of Health's message on 5K and cancel mass gatherings.
Earlier, Deputy Prime Minister Vu Duc Dam on late January 31 inspected disease prevention and control in the both Hai Duong and Quang Ninh.
He tasked the local leaders of Hai Duong to take drastic measures to quickly trace, zone off pandemic-stricken areas, and quarantine those coming in close contact with confirmed cases as this is the new variant that is more transmissible.
Dam, who is Head of the National Steering Committee for COVID-19 Prevention and Control, stressed there are only six days left for competent agencies to control the outbreak in Chi Linh city.
In Quang Nnih province, Deputy PM Dam inspected disease checkpoints in Dong Trieu commune.
Hai Duong and Quang Ninh respectively confirmed 188 and 25 locally-transmitted cases since the resurgence broke out on January 27.
Three field hospitals were immediately set up in the northern province of Hai Duong to cure COVID-19 patients.
The Ministry of Health dispatched a group of experienced doctors from Da Nang to assist colleagues in Hai Duong Province. These doctors have experience in treating COVID-19 patients and conducting contact tracing in the central city last August.
Hai Duong has improved its testing capacity to 5,000 samples per day. Contact tracing and testing have been the province's top priority to promptly quarantine people having close contacts with the confirmed cases.
Viet Nam reported two new COVID-19 community infections this morning, raising the national tally to 1,819 cases. Both patients are natives of Ha Noi and linked to the fresh COVID-19 outbreak in Chi Linh city./.
By Kim Loan