Trade surplus sets new record of over US$20 billion
VGP – Viet Nam posted a record trade surplus of US$20.1 billion in the first 11 months this year amid swift and complicated evolution of the Covid-19 pandemic.
November 29, 2020 5:05 PM GMT+7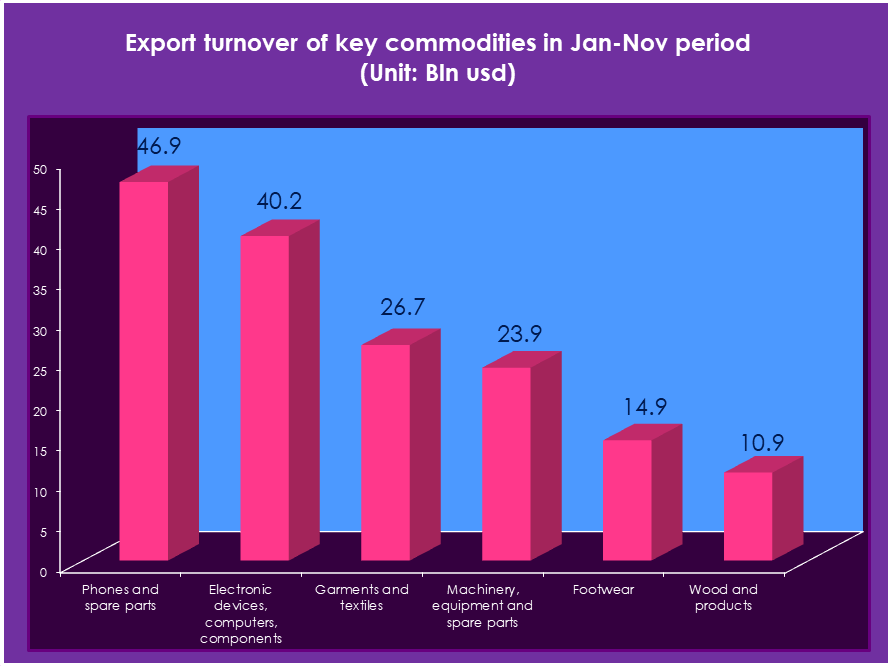 Export turnover of key commodities in January-November period
Total trade volume in the reviewed period grew by 3.5% in the year to November, to nearly US$490 billion, the General Statistics Office (GSO) reported Sunday.
Of the total figure, export value increased by 5.3% to US$254.6 billion while import value picked up 1.5% to US$234.5 billion, said the GSO.
In the reviewed period, the domestic sector's export revenue reached US$73 billion, up 1.6% and making up 28.7% of the total export value. Meanwhile, foreign-invested sector's export volume rose by 6.9% to US$181.6 billion and accounting for 73.1%.
As many as 31 commodities with export turnover of over US$1 billion each account for 92% of the country's accumulative export value.
Top export commodities in January-November period include phones and spare parts (US$46.9 billion, down 3.4%), electronic devices, computers and components (US$40.2 billion, up 24.3%), garments and textiles (US$26.7 billion, down 10.5%), machinery, equipment and spare parts (US$23.9) billion, up 44.5%, footwear (US$14.9 billion, down 9.8%), wood and products (US$10.9 billion, up 14.1%).
The U.S. was the biggest importer of Vietnamese goods in the first 11 months, with turnover of US$69.9 billion, or a year-on-year increase of 25.7%, followed by China with US$43.1 billion, up 16%.
The EU and ASEAN came third and fourth with US$32.2 billion, down 2.4% and US$20.9 billion, down 10.6%, respectively./.
By Quang Minh