Trade picks up slightly amid COVID-19 epidemic
VGP – Total trade volume between Viet Nam and the rest of the world picked up 2.4% to US$74 billion in the first two months this year despite negative impacts of the COVID-19 epidemic, the General Statisitics Office (GSO) reported Friday.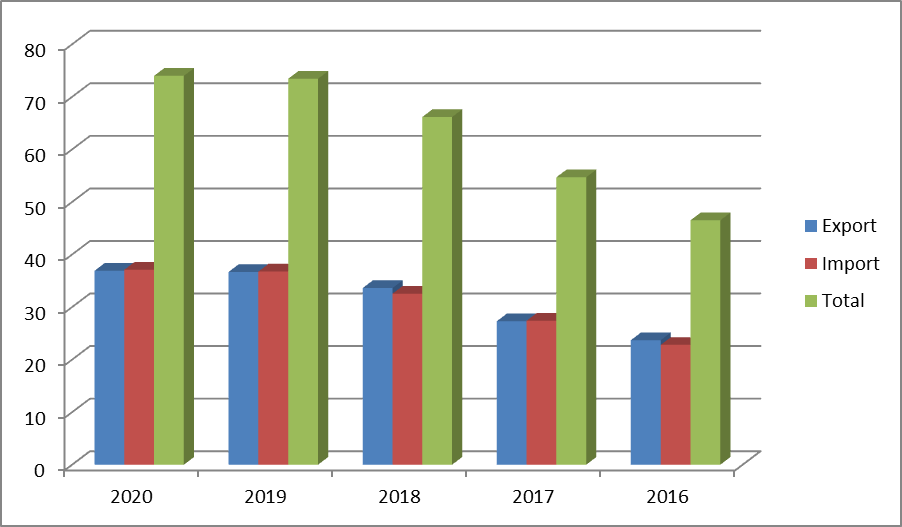 Jan-Feb trade volume between 2016-2020
Of the total figure, export and import values reached US$36.9 billion nad US$37.1 billion, respectively, in the reviewed period, according to the GSO.
Export volume of foreign-invested sector, including crude oil, stood at US$25.51 billion, accounting for nearly 70% of the country's total export value, mainly fueled by strong growth of Samsung's exports.
The nation's top exports include phones and equipment (US$6.9 billion), down by 1.7%; machines and spareparts (US$3 billion), up 19.6%; footwear (US$2.7 billion), up 3%; timber products (US$1.5 billion), up 7.1%.
Meanwhile, export of farm produce significantly decreased agains the same period last year, with aquatic products plummeting 17.4%, pepper (-18.8%), rubber (-24.2%), and cashew nuts (-19.3%).
The US was the biggest importer of Viet Nam with total importa value of US$9.8 billion, up 19.6%, followed by China (US$4.8 billion), up 3.7%.
Viet Nam's exports to the European Union, ASEAN, and South Korea fell by 7.7%, 9.3%, and 6.5%, said the GSO./.
By Thuy Dung