Top leaders pay tribute to former Japanese Prime Minister Abe Shinzo
VGP – Top Vietnamese leaders on Monday paid tribute to Japan's former Prime Minister Abe Shinzo who was shot in an apparent assassination attempt Friday during a speech for Sunday's Upper House election.
July 11, 2022 7:55 PM GMT+7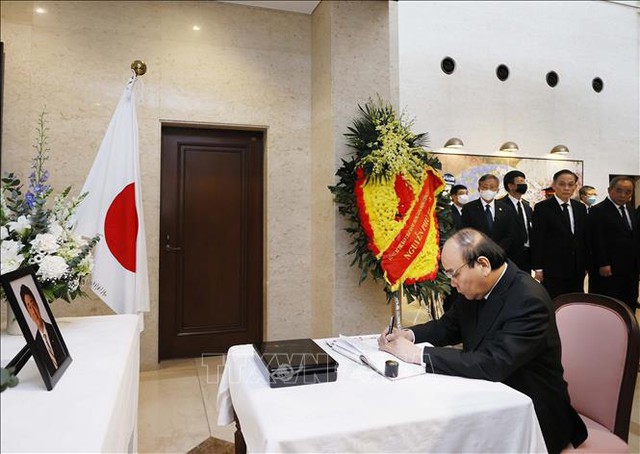 Party General Secretary Nguyen Phu Trong and Chairman of the National Assembly Vuong Dinh Hue sent mourning flowers to the Embassy of Japan in Ha Noi to pay tribute to Abe.

On behalf of top Vietnamese leaders, President Nguyen Xuan Phuc and Prime Minister Pham Minh Chinh visited the Embassy and signed a condolence book.
The Vietnamese leaders expressed profound sadness and conveyed their condolences to the Liberal Democratic Party, the Government, people and family of Mr. Abe - a great, close, and loyal friend of the Vietnamese leaders and people.

The special affection and valuable support that Mr. Shinzo Abe has given the country and people of Viet Nam, along with the extensive strategic partnership between Viet Nam and Japan, are invaluable assets for the future of relations between the two countries.
During the long time Mr. Abe had been serving as the Prime Minister of Japan, the friendly cooperation between Viet Nam and Japan has entered a new stage of development with indelible imprints."