Top 5 diplomatic events in first half of 2019, video included
VGP – The top diplomatic events include the second DPRK-USA Summit, Viet Nam's election to the United Nations Security Council, and the official signing of Viet Nam-EU trade and investment deals.
Viet Nam hosts 2nd DPRK-USA Summit
Viet Nam had about three weeks to prepare for the 2nd DPRK-USA Summit that captured the world's attention.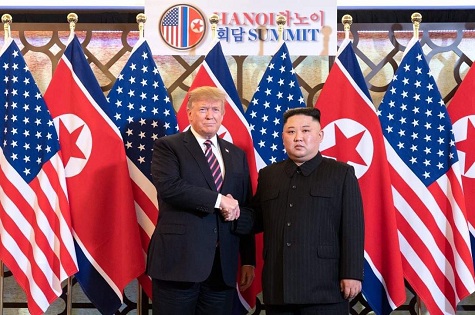 US President Donald Trump (R) and DKRP Leader Kim Jong Un meet in Metropole Hotel in Ha Noi on Feb. 28, 2019
According to Australian professor Carl Thayer, Viet Nam was chosen because relevant stakeholders trusted Viet Nam to be a neutral host.
Carl Thayer said Viet Nam played two roles. The first role is a third-party facilitator of the peace process on the Korean peninsula not only as host for the second summit, but as ASEAN Chair in 2020, as a non-permanent member of the UN Security Council in 2021, and possibly beyond.
The second role is a potential economic model for North Korea to study and possibly adapt as the peace process moves forward. Chairman Kim is keen to promote special economic zones in North Korea as UN sanctions are lifted.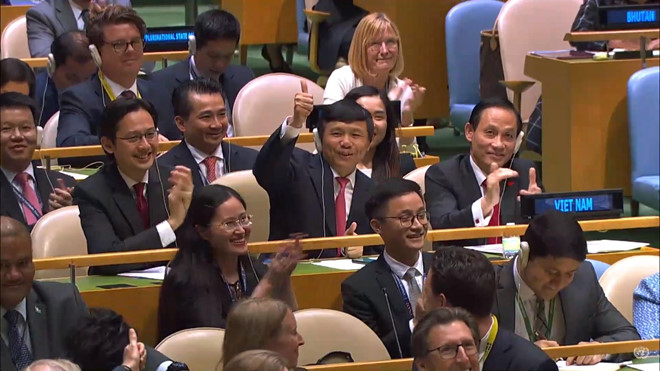 Viet Nam becomes the non-permanent member of the United Nations Security Council for the second time
Viet Nam's election to the UNSC
More than three months after the 2nd DPRK-USA summit, Viet Nam was elected as a non-permanent member of the United Nations Security Council for the tenure 2020-2021 with unprecendeted number of positive votes.
On behalf of the Party, State and people of Viet Nam, Party General Secretary and State President Nguyen Phu Trong extended sincere and deepest thanks to the United Nations member countries for having supported and voted for Viet Nam to the Security Council for the second time.
Trong said this event reflects the high credit of the international community to Viet Nam's role and contributions to common works at regional and global scales as well as the country's rising position and prestige on the international arena.
It is a great honor for Viet Nam to be a non-permanent member of the Security Council but also a great responsibility that requires utmost endeavors to fulfill its role, said the top Vietnamese leader.
He affirmed Viet Nam also commits to promoting adherence to the United Nations Charter and international law, contributing to the joint efforts of the international community for peace, cooperation and development.
Meanwhile, Prime Minister Nguyen Xuan Phuc said he is so proud as Viet Nam was elected to the United Nations Security Council again.
Phuc expressed his belief that Viet Nam is well-prepared and willing to do its utmost to successfully fulfill the role of the non-permanent membership and truly become a partner for sustainable peace.
ASEAN leaders to the 34th Summit in Bangkok, Thailand on June 23, 2019. Photo: VGP
ASEAN Summit
The Vietnamese delegation led by Prime Minister Nguyen Xuan Phuc attended the 34th ASEAN Summit in Bangkok, Thailand after the two aforesaid successful diplomatic events.
At the summit, Prime Minister Nguyen Xuan Phuc called on ASEAN member countries to continue giving top priority to consolidating internal solidarity and unity and promoting the bloc's central role in ASEAN-led mechanisms.
The regional leaders approved ASEAN Leaders' Vision Statement on Partnership for Sustainability, ASEAN Leaders' Statement on The ASEAN Cultural Year 2019, and ASEAN Framework of Action on Marine Debris.
Particularly, PM Phuc and other ASEAN leaders adopted an "Outlook on the Indo-Pacific", providing a guide for ASEAN's engagement in the Asia-Pacific and Indian Ocean regions.
The Outlook, envisioned by ASEAN, consists of the four key elements: (i) A perspective of viewing the Asia-Pacific and Indian Ocean regions, not as contiguous territorial spaces but as a closely integrated and interconnected region, with ASEAN playing a central and strategic role; (ii) An Indo–Pacific region of dialogue and cooperation instead of rivalry; (iii) An Indo-Pacific region of development and prosperity for all; (iv)The importance of the maritime domain and perspective in the evolving regional architecture.
On the sidelines of the summit, PM Phuc had a working breakfast with his counterparts Thongloun Sisoulith of Laos and Samdech Techo Hun Sen of Cambodia. He also met with Indonesian President Joko Widodo, Thai PM Prayut Chan-o-cha, Singaporean PM Lee Hsien Loong, and Philippine President Rodrigo Duterte.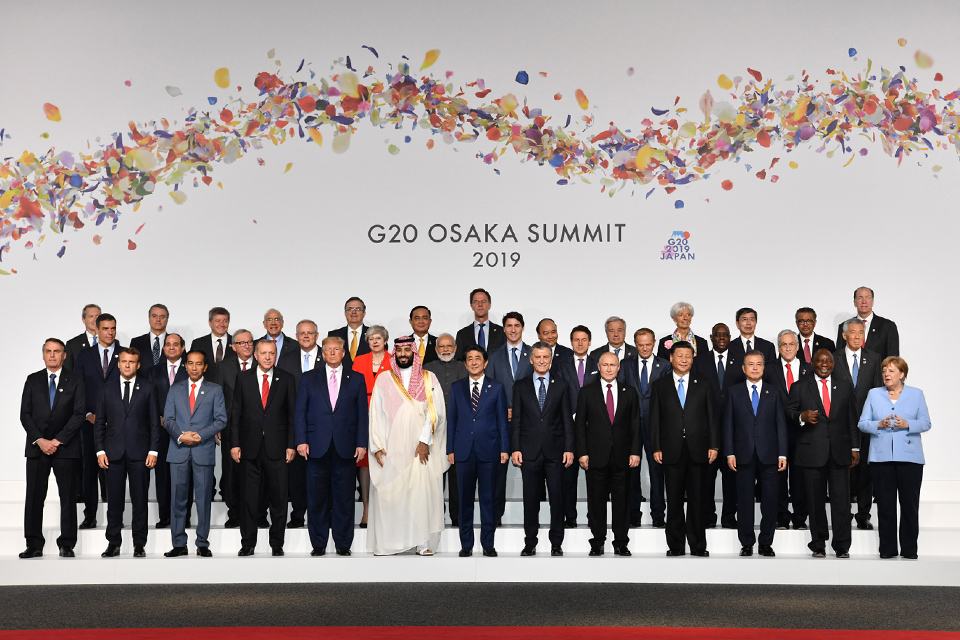 Prime Minister Nguyen Xuan Phuc and leaders of developed and emerging economies to the G20 Osaka Summit in Japan. Photo: G20.org

4th time invited to G20 Osaka Summit
Prime Minister Nguyen Xuan Phuc attended the G20 Osaka Summit and visited Japan from June 27 to July 1 at the invitation of Japanese Prime Minister Shinzo Abe.
This is the 4th time Viet Nam was invited to a G20 Summit in the last decade.
Speaking at the summit, PM Nguyen Xuan Phuc said Viet Nam has regarded the digital economy as one of the major growth engines, and will issue a strategy on national digital transformation in late 2019.
He welcomed the initiative raised by Japanese PM Shinzo Abe of free data flows with trust, and suggested forming global legal framework and regulations on data flows and management.
The Vietnamese Government chief proposed an initiative to form a global network on sharing data on oceans and sea, towards a global framework on preventing marine plastic waste at a discussion on climate and environment.
He also emphasized that plastic waste discharged into the sea harms the maritime ecological system, and proposed countries join hands in building institutions and regulations on seas and oceans so as to control, reduce and prevent marine plastic waste.
On the sidelines of the summit, PM Phuc met with Chinese President Xi Jinping, US President Donald Trump, Chilean President Sebastian Piñera, Indian Prime Minister Narendra Modi, Canadian Prime Minister Justin Trudeau, and President of the European Commission Jean-Claude Juncker.
He also met with Russian President Vladimir Putin, Australian PM Scott Morrison, German Chancellor Angela Merkel, Korean President Moon Jae In, ADB President Takehiko Nakao, Secretary-General of the United Nations Antonio Guterres, and World Bank President David Malpass.
Following his attendance at the Summit, PM Phuc held talks with Japanese counterpart Shinzo Abe to discuss on measures to foster the Viet Nam-Japan extensive strategic partnership.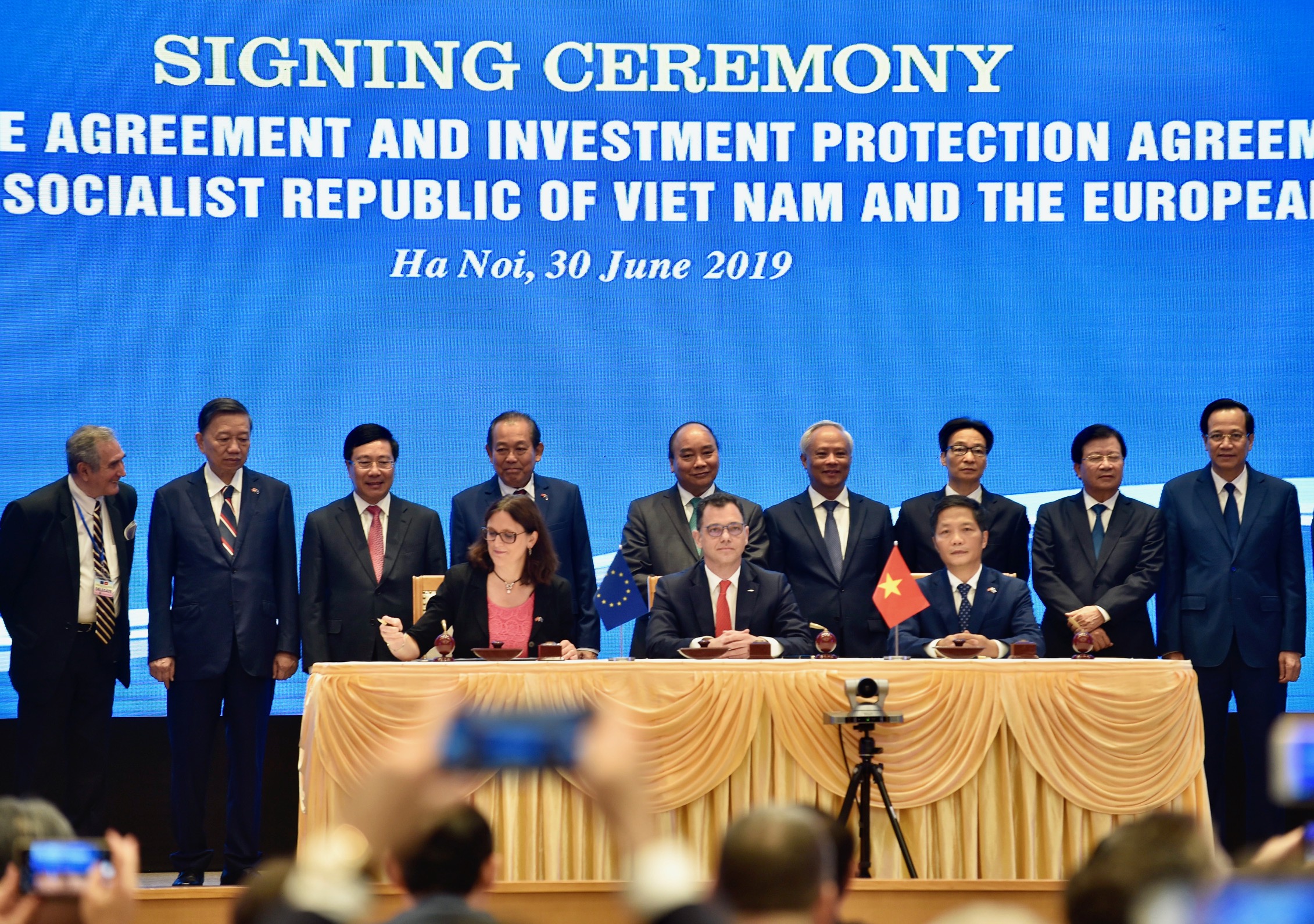 The signing ceremony takes place at the Government Office in Ha Noi on June 30, 2019. Photo: VGP

Signing VN-EU trade and investment deals
Viet Nam became the 2nd ASEAN member country to have signed free trade and investment protection agreements with the European Union.
This is the outcomes of the great efforts made by both sides. From the Vietnamese side, Chairwoman of the National Assembly Nguyen Thi Kim Ngan and Prime Minister Nguyen Xuan Phuc toured France, the European Commission, Romania, Bulgaria, Austria to directly discussed ways to boost the signing process with the EU side.
The EVFTA is expected to help increase Viet Nam's GDP by 2.18-3.25% in the 2019-2023 period, and 4.57%-5.03% in the following five years.
The Vietnamese Ministry of Planning and Investment estimated that Viet Nam's exports to the EU is projected to grow by 20% by 2020; 42.75 by 2025; and 44.37% by 2030.
Vu Tien Loc, Chairman of the Viet Nam Chamber of Commerce and Industry said the signing of the EVFTA in Ha Noi this week reflects the Government's determination to work towards "higher value-added economy".
The trade deal can ben seen as an expressway to connect Viet Nam with one of the world's top economic and technological centers.
The Viet Nam-EU free trade agreement (EVFTA) and the comprehensive and progressive agreement for trans-pacific partnership (CPTPP) are the "new-generation" deals with higher and broader commitments, thus beyond economic benefits, the two trade pacts are also expected to stimulate the Government's on-going institutional reform agenda in the context of extensive international integration in which economic integration is the core./.
By Quang Minh