Thuan lifts Vietnamese silk to new level
VGP - It is the lotus blossoms and it is also the busiest period time of the year of artisan Phan Thi Thuan who weaves fabrics from lotus silk.
July 18, 2022 8:00 AM GMT+7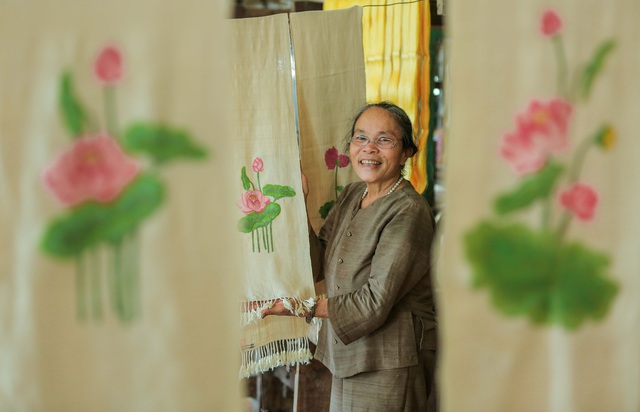 The lotus flowers start blooming early summer, around June, and fully open in July until September.

Thuan and her workers start working from early in the morning till late in the afternoon in a tranquil village by the Day River about 50km from Ha Noi.
Some are on the fields to snap off the stems in the paddies, some are teasing out the fragile fibers and roll them into thread at the workshop, while some are weaving unique scarves and blankets by the wooden frames.
Not only bringing silk waving to a next level, Thuan has been known as the first artisan to 'train' silkworms to weave fabric.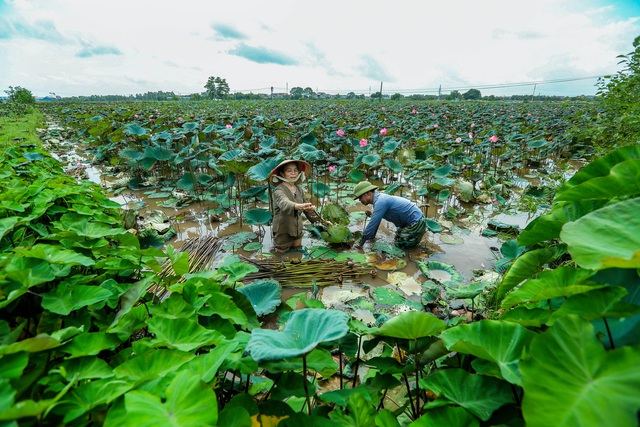 Talented artist
Thuan is a third-generation silk maker in the family in Phung Xa Village, in Ha Noi's My Duc District which was known as the hub of mulberry farming and silkworm rising in northern Viet Nam.
She has accumulated a wealth of experience, knowledge and expertise in each stage of silk-making process, using the centuries-old method of weaving to turn the fiber secreted by silkworms into beautiful blankets, scarves and dresses.
Phung Xa silk was favored for its fine, smooth, and durable quality. But in early 1980s, the trade went down and many artisans quit.
Thuan and her family were also strongly affected but the woman who had strong passion and love for silk chose her own way. She was obsessed with the desire to find a more simple and efficient way to keep the traditional craft alive.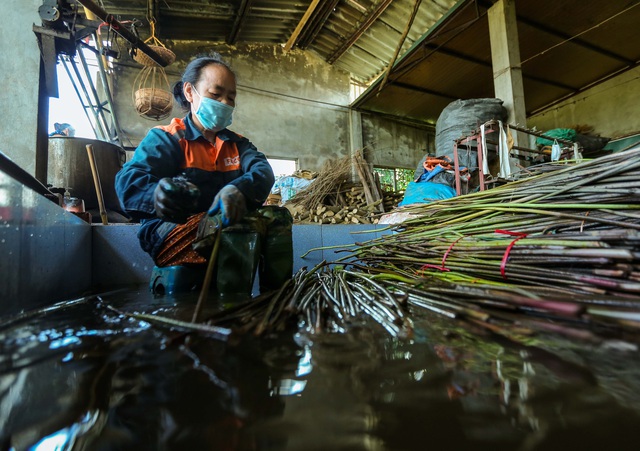 After numerous nights of tossing and turning, Thuan came up with an idea: turn the silkworms into "professional weavers".
Noticing that silkworms release the silk to make a nest and then turn into cocoons, she placed them together to secret the silk threats on a flat surface. As a result, the silkworms released their knitting yarns, forming the unique flat cocoon that no human weaving technique can make.
After that, it underwent a number of technical processes including boiling, cleaning, drying and tailoring to become finished products for sale such as silk blankets, pillows and shirts. It can be said, this is a unique and innovative weaving technique for traditional Vietnamese silk weaving.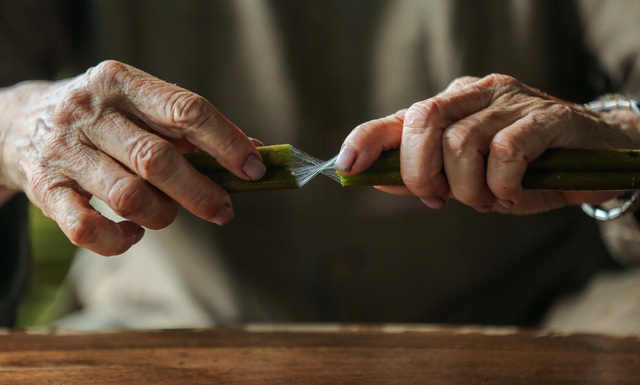 This self-weaving process has reduced many employees, complicated stages such as cocoon pulling and silk reeling. It brings high commercial value, contributing to raising incomes for workers in all stages while products are durable with beautiful forms and fair prices.
The initiative for the self-weaving silkworm brought her the first prize in the nationwide contest of creative farmers in 2015, organized by the Viet Nam Farmers' Association.
Her high quality products have been known widely among local and international customers. Currently, they have been exported to countries such as Thailand, Japan, France, Germany and Belgium.
New level of silk-making
Several years after her first creativity, Thuan began a new adventure with silk.
Her village has many lakes and ponds with abundant lotus flowers. Thuan was suggested to travel to Myanmar and Cambodia to learn how to make silk from lotus stems.
"At first, I felt it was very strange because I had never heard of this product," she said. But I believed that if other people could do it, I could do."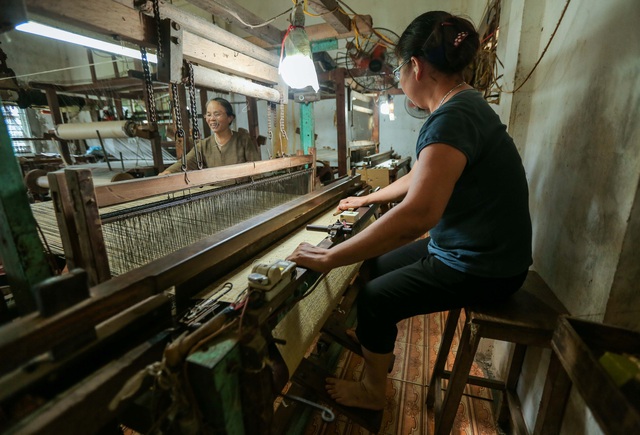 After spending much time and effort in researching and testing in 2017, she found a new method to make special type of textile from delicate lotus fibers.
Thuan cut the stems, the part of a lotus that used to be thrown away for it has no value, and extracted the cellulose threads. She wove them together and created a unique form of silk, which have been appreciated for its durability as much as its distinctive aroma.
"The mature lotus stems offer the strongest and most beautiful thread, but if they are too old or young the thread is difficult to extract and cut," she said. "The threads need to be processed within 24 hours while they're still wet, otherwise, they would break. These fibers are fragile, but once woven, can be as durable as traditional silk."
Thuan also said making lotus silk is a painstaking job. The craftsmen need to be skillful and attend to the smallest details in the whole process.
In order to create a standard-sized scarf measuring 1.7m long by 0.25m wide, a worker needed threads from 4,800 lotus stems and conducted spinning for 10 days before weaving. It took a worker about 2 months to finally complete such a meticulous and sophisticated job.
Products made from lotus silk are unlike any other fiber. They are soft like silk, breathable like linen, and slightly elastic with beautiful lotus scent.
Many stems were needed along with intensive labor, resulting in high costs of products. To address this, Thuan hoped to create silk using a fusion of the two materials, which should result in more affordable and sustainable products. She hoped to even create a more eco-friendly fashion market and more jobs for local people.
Thuan also ran training sessions during the school holidays, hoping to show children there is a dynamic space in this ancient profession./.