Three more COVID-19 patients confirmed, total rises to 38
VGP - The Ministry of Health has confirmed three more COVID-19 patients, bringing the total to 38, of whom 22 have been reported since March 6.
March 11, 2020 5:37 PM GMT+7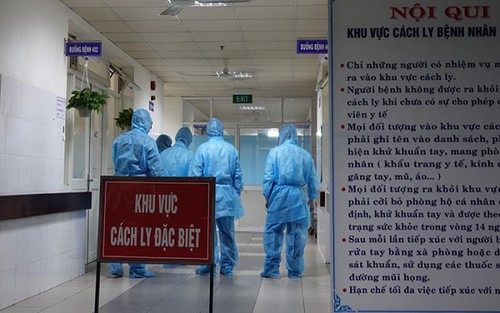 All the current 22 patients have been confirmed since March 6
>>> Visa exemption for 8 European countries to be halted since March 12
>>> Gov't chief demands strict punishment for those intentionally hiding COVID-19 symptoms
>>> One more British national confirmed contracting COVID-19, total rises to 33
All the three infection cases were in close contact with the previously announced patient (34th patient) in the central province of Binh Thuan.
The new patients, including 64-year old woman, 37-year old woman, and 28-year old man, are being quarantined and treated at the local General Hospital.
The 34th patient, a 51-year old woman, was confirmed by the Ministry of Health on March 10. On February 22, she flew from Viet Nam to New York, the US after transiting in South Korea's Incheon airport.
On February 29, she flew back to Viet Nam from Washington, the US after transiting in Qatar. She arrived at the Tan Son Nhat International Airport in Ho Chi Minh City on March 2.
So far, Viet Nam has reported 38 infection cases, of whom 16 had been cleared of the virus and discharged from hospitals. All the rest have been confirmed over the past six days.
Here is list of current 22 patients:
- Nguyen Hong Nhung, 26-year old woman from Ha Noi, returning home from the UK on March 2 (17th patient).
- A 27-year old man, native of Thai Binh, returning home from South Korea on March 4.
- Two patients having been in close contact with Nhung
- A 61-year old man who was on the same flight VN005 with Nhung
- Eleven foreign nationals, including 10 British citizens and one from Ireland.
- A 24-year old woman who met Nhung on February 27 in London, the UK
- A 51-year old woman returning home from the US on March 2 (34th patient).
- A 29-year old woman having been in direct contact with two British patients (35th patient)
- A 64-year old woman (reported to have been in close contact with 35th patient)
- A 37-year old woman (reported to have been in close contact with 35th patient)
- A 28-year old man (reported to have been in close contact with 35th patient)
By Huong Giang