Thousands of people evacuated as powerful storm approaching
VGP – Central provinces and cities have evacuated more than 150,000 residents to avoid a powerful typhoon which was approaching the Central coast, VNExpress reported Monday.
October 14, 2013 7:19 PM GMT+7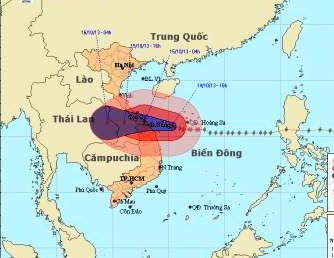 The path of typhoon Nari
Typhoon Nari, after killing 13 persons and leaving more than two million people without electricity in the Philippines, is moving Westward to Central Viet Nam.
At 4 PM today, the storm was centered at 15.9 N, 110.3 E, about 200 km East of Quang Tri and Quang Ngai provinces. Its speed at the center was 140 km/hour.
It is expected that the storm will continue head to the Central Coast at the speed of 10-15 km/hour and cause heavy rain in the region.
After that the storm will rapidly downgrade to an active low pressure cell and move to Laos and the Northeast of Thailand.
Last month, another storm Wutip wreaked havoc in the central province of Quang Binh after making landfall in the Central region. It claimed two lives, injured seven others and pulled down 336 houses.
Quang Tri and Thu Thien-Hue provinces had two injured people each and around 4,000 houses damaged.
Meanwhile, the tropical storm also caused a mass power cut in Quang Binh and Quang Tri provinces. The Electricity of Viet Nam Corporation was working to quickly resume power supply./.
By Hai Minh