Swimmer Hoang wins Asian Games bronze, qualifies for Paris Olympics
VGP — Swimmer Nguyen Huy Hoang won a bronze at the 19th Asian Games and at the same time he has qualified for the Paris Olympics.
September 29, 2023 9:35 PM GMT+7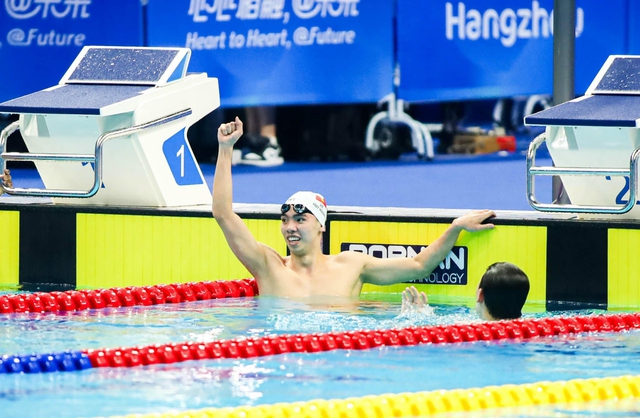 Hoang finished second in the men's 800m freestyle event with a time of 7min 51.44sec to take a bronze at the Hangzhou Olympic Sports Centre Aquatic Sports Arena.

The winner was Kim Woo-min of South Korea who swam 7:46.03, setting a new Games record. Chinese Fei Liwei came second on 7:49.90.
Hoang's result was 0.21sec better than the Olympic standard, meaning that he secured a berth at the Paris Games next summer.
He is Viet Nam's third representative the world largest quadrennial sport festival.
The first two are cyclist Nguyen Thi That and shooter Trinh Thu Vinh.
Earlier, Hoang finished fourth in the men's 1,500m clocking 15:04.06, which reached the Olympic B standard.
Previously, Hoang was the only Vietnamese swimmer earned two official berths at the Tokyo Games 2021.
"It is not my best time in this category but it is important that I pocket a medal," said Hoang.
"Today, I have reached my best form, it is much different with what I did in the 1,500m yesterday. I am really happy with this result because Asian Games is only held every four years," said the multi-time SEA Games champion.
In the afternoon, Viet Nam Team also earned one silver in gymnastics by Nguyen Van Khanh Phong in the men's rings event.
The SEA Games champion's impressive performance brought him 14.600 points to place second in the ranking table.
He was below Chinese Lan Xingyu who scored 15.433 points. Tanigawa Wataru of Japan claimed a bronze with 14.300 points.
"I am happy because I have exceeded my ability. In every tournament, I try to do my best. If I failed, it would be a lesson for me for the next challenge. Luckily, I overcome my mentality problem to have a good performance," said Phong.
"The Asian Games silver will be a strong push for me. I will now focus on improving my physical strength and set a target of earning an Olympic slot."
Coach Truong Tuan Hien praised his athlete's effort saying Phong registered much higher difficulty score compared to his previous competitions. He showed his strong progress year by year.
Hien believe that his players would receive strong support to develop to the best in the near future.
In the morning, marksman Pham Quang Huy won the first gold for Viet Nam, ending the nation's long-awaited hope of title.
Later in the day, Minister of Culture, Sports and Tourism Nguyen Van Hung sent a letter to congratulate the Viet Nam Team's success.
Minister Hung was happy to know about the team's first gold and highly appreciated effort and determination of all officials, coaches and athletes.
He wrote the medals, especially a gold by shooter Pham Quang Huy, would be a motivation for other athletes in the following competition days in Hangzhou.
After five days, Viet Nam has won one gold, two silver and 10 bronze medals to stand at No 15.
China leave all other delegation far behind with 90 golds. South Korea are second with 24 and Japan are third with 18./.