Striker Nhu makes history as first Vietnamese female player going abroad
VGP — Huynh Nhu has officially signed a contract with Portuguese side Lank FC Vilaverdense, making a turning point for Viet Nam's football history as the Vietnamese player competing abroad.
August 28, 2022 10:01 PM GMT+7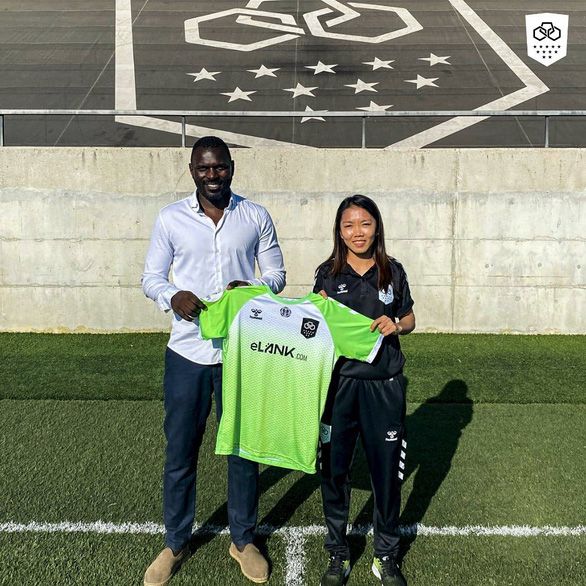 On their fanpage, Lank FC has post a short introduction about their new striker and welcomes her to the new family.
"Directly from Ho Chi Minh City FC, the striker comes to make history for Lank FC Vilaverdense, becoming the first Vietnamese player to join a European women's football team," Lank posted.
"She is the all-time top scorer of her country's women's national team, captain of the national team and has won the Viet Nam's Golden Ball award four times. Clearly, the Vietnamese soccer star came to make an impact. Nhu, let's make history! Welcome to the family!"
Nhu's on-loan contract will last till the end of next June with an option for another year. She will receive 1,500 euros per month. Lank FC also pays for her accommodation and meals at around 1,000 euros monthly.
"Having an opportunity to play abroad has been a dream of all Vietnamese female players for long time. Now, the dream comes true to me," said Nhu after signing the deal on August 26.
"I am happy to be here. I want to inspire young players at home. They should work hard and don't give up! Hope that, many of them will follow me to cross the border."
On August 28, Lank FC will take on Amora FC in the first leg of the League Cup. However, Nhu is unable to play as Lank FC did not yet registered her in time.
However, she can play in the second leg match on September 4.
The Campeonato Nacional Feminino, national premier league, will be kicked off on September 10 with the participation of 12 teams.
Lank FC will play their first match against Valadares Gaia on away ground one day later.
Nhu has had her first training with the club.
"I am trying to adapt to the new environment. Everything is new and strange to me. However, I believe I can do it and will embarrass Vietnamese football," said Nhu who is the only Asian player of the club.
In new home, Nhu will vie for a berth in the first team with six strikers; five of them are under 22 while the rest is 26, also a new comer.
Despite her 1.57m, Nhu, 30, know how to overcome taller and bigger defenders with her smart playing style and sharp skills of a goal hunter.
Lank FC contacted Nhu in 2020 but for different reasons including COVID-19 pandemic no deal was not done.
The Portuguese club also wanted to sign with two other Vietnamese players, forward Pham Hai Yen of Ha Noi FC and midfielder Nguyen Thi Tuyet Dung of Phong Phu Ha Nam, but these deals never made.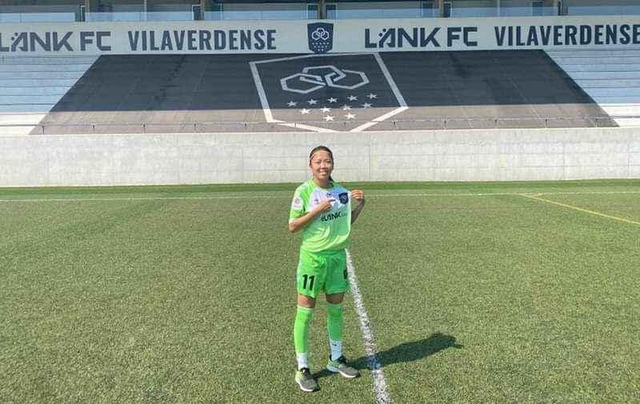 Challenges
"We have made a milestone. It is a sweet result for Viet Nam in general and Nhu in particular because we have worked hard to push the women's football development," said national head coach Mai Duc Chung.
"We have exported female player abroad. It means that our football has been well-known internationally. It is a good sign. However, challenges are waiting.
"Nhu is a famed player in Viet Nam but in Europe she is a newbie. She will have to face with difficulties including language and culture," he said.
Chung said small stature is a biggest obstacle for Vietnamese players when facing with world rivals. Men like midfielder Nguyen Quang Hai and striker Nguyen Cong Phuong have experienced the same problem.
However Chung believed that agile and tactical-minded Nhu knew how to bring into play her strong points and gain her official berth.
Nhu, from Tra Vinh Province, is one of the best female footballers of Viet Nam. She has won the national championship seven times, and the National Cup three times along with SEA Games and AFF Cup gold medals.
The striker also holds a record of scoring the most goals for Viet Nam national team with 59 in 67 matches. She places No 23 in the all-time international female goalscorer./.