State President's visit to refresh European attitude
VGP - State President Nguyễn Minh Triết's ongoing visit to Switzerland aims at upgrading bilateral ties as well as improving European citizens' attitude towards Việt Nam - a promising partner and breathtaking tourist destination.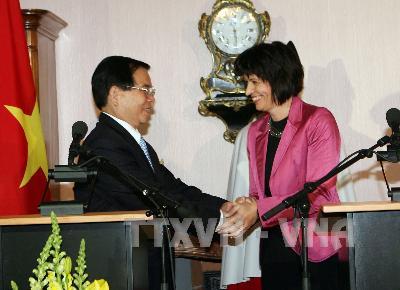 State President Nguyễn Minh Triết (L) and President of the Swiss Confederation Doris Leuthard (R), Bern, May 18, 2010 – Photo: VNA
A State-level reception to the Vietnamese leader was solemnly organized yesterday (local time) in Bern, Switzerland.
Swiss President Doris Leuthard, during her talks with the Vietnamese counterpart after the reception, appreciated Việt Nam's efforts to establish a working panel for the feasibility study to support the negotiations of a free trade agreement (FTA) with the European Free Trade Association (EFTA).
He confirmed that Việt Nam is Switzerland's important, friendly, and trusted partner who is among few Southeast Asian countries to receive the latter's ODA.
The Vietnamese leader took the occasion to convey sincere thanks to Switzerland for its valuable assistance during Việt Nam's past national liberation cause and the current national development.
The two sides noted the friendship and multi-faceted cooperation have been significantly flourishing in all dimensions in recent years, particularly politics and trade.
The two-way trade reached US $2.6 billion last year and Switzerland was Việt Nam's second biggest trade partner in Europe. The Confederation's direct investment capital stood at US $1.43 billion. However, trade and investment ties still contain great potential.
Both the leaders agreed that more favorable conditions should be given to their business circles to expand investment activities in their respective country.
Switzerland's future ODA will bend to poverty reduction and environmental protection, said President Doris Leuthard.
After the talks, State President Triết and his Swiss counterpart Doris Leuthard witnessed the signing ceremony of an agreement on allowing family members of the staff of the two sides' representative agencies to find jobs in the host countries; and the Memorandum of Understanding on education cooperation.
By Hải Minh