State President: No concession on territorial sovereignty
VGP – State President Truong Tan Sang declared that NO ONE, NO COUNTRY can force Viet Nam to make concessions on territorial sovereignty.
June 20, 2014 10:19 PM GMT+7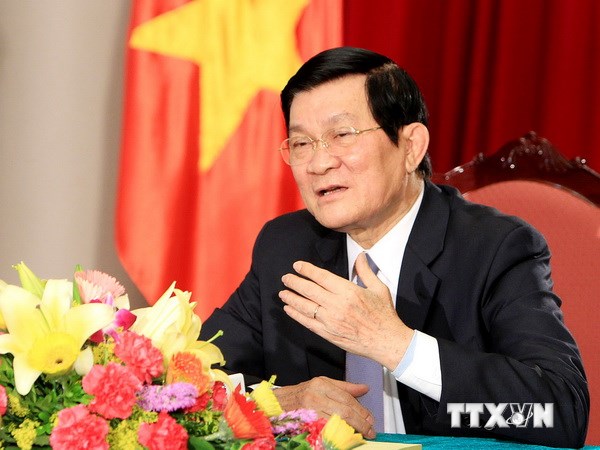 State President Truong Tan Sang
State President Sang reiterated the point while granting an exclusive interview to the Viet Nam News Agency.
He pointed out that China illegally placed its oil rig deep inside Viet Nam's exclusive economic zone and continental shelf since early May. With this move, China unilaterally violates the high-level agreement on basic principles guiding the settlement of sea-related issues signed between the two countries, international law, including the United Nations Charter and 1982 UN Convention on the Law of the Sea, as well as other agreements signed between ASEAN and China.
Viet Nam suffered numerous wars, thus it always treasures and tries its best to consolidate the friendship with China. However, no one and no country can force Viet Nam to make concessions on sacred territorial sovereignty.
The Vietnamese leader once again reaffirmed that Viet Nam possesses full historical and legal evidence to assert its sovereignty over the Hoang Sa and Truong Sa archipelagos as well as the exclusive economic zone and continental shelf in accordance with international law.
We are determined to defend our land and sea as for all the Vietnamese people, the national territorial sovereignty is sacred and inviolable, State President Sang stressed.
Our historical and legal evidence shows that justice is on our side, State President Sang said, adding that international community has also shown a clear attitude.
Our people have an ardent patriotic tradition. Every time the country's independence and sovereignty are threatened, Vietnamese people always unite as one to defend the Fatherland.

The State President said he is deeply moved by and respects the noble sentiment of our compatriots and comrades. All people as one look towards the East Sea. Fishermen bravely stay on the front line at sea despite the threat and intimidation from Chinese ships, even when one fishing boat was sunk. They stay on the traditional fishing grounds where many generations of ancestors have fished, refusing to yield. Viet Nam's law enforcement forces never give in; they courageously overcome all challenges to carry out their mission of safeguarding the Fatherland's sacred sovereignty. People throughout the country express their patriotism in various creative ways. Vietnamese all over the world also voice their strong protest against China's illegal act. We are resolved to defend our sovereignty by peaceful measures on the basis of international law.
He said that the Vietnamese Party and State are undertaking policies and measures to meet the just and passionate aspirations of more than 90 million Vietnamese. State President Sang quoted the words that King Le Thanh Tong once said to his royal court, which were recorded in Dai Viet Su Ky Toan Thu (The Complete Annals of Dai Viet): "How can we abandon even a single inch of our mountain, our river? You must firmly stand your ground, not letting them gradually encroach. If they do not listen, we can send our envoys to the north to clarify justice. If you dare to concede even a single inch of the land of our ancestors to the enemy, it will be a crime deserving of death."
By Quang Trung