State Governor talks about NPLs
VGP – State Governor of Viet Nam Nguyen Van Binh on Monday clarified a number of issues relevant to the efficiency of the Viet Nam Asset Management Company as well as the settlement of non-performing loans (NPLs) at the Q&A session of the National Assembly Standing Committee.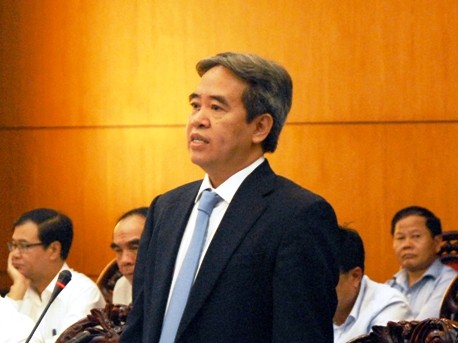 Governor of the State Bank of Viet Nam Nguyen Van Binh at the National Assembly Standing Committee's Q&A session, Ha Noi, September 29, 2014 - Photo:VGP
Regarding the NPLs increase since the beginning this year, the Governor said as of July the total volume rose to VND 162,200 billion, up compared to that of late 2013.
The increase was attributed to modest macro-economic recovery, sluggish production and business, and credit organizations' introduction of new loan classification standards, according to Mr. Binh.
The State Bank has been deploying a number of solutions, including the VAMC, to deal with bad debts and credit organizations have been actively participating in this process by raising the ratio of loan loss provisions.
The VAMC has purchased a total volume to nearly VND 60 trillion so far but only 2.5 percent of which has been sold. Mr. Binh said that it is an encouraging outcome for the newly-established tool.
He went on to say that difficulties in terms of legal aspects for dealing with bad debts can fill as many ass 29 A4 size papers
The VAMC, with charter capital of VND 500 billion, also finds it hard amid the mountain of bad debts. Thus Governor Binh said monetary mechanisms are needed to improve the company's financial capacity.
The settlement of NPLs is not an overnight job but one positive signal is that credit organizations' financial situation has become much more transparent and put under the supervision of the central bank, Mr. Binh noted./.
By Hai Minh