Staff members of Vietnamese field hospital in South Sudan receive UN medals
VGP - All 63 staff members of Viet Nam's Level-2 Field Hospital Rotation 4 working at the United Nations Mission in South Sudan (UNMISS) were awarded with the UN Medals for their dedication and outstanding contributions to UN missions.
March 25, 2023 3:02 PM GMT+7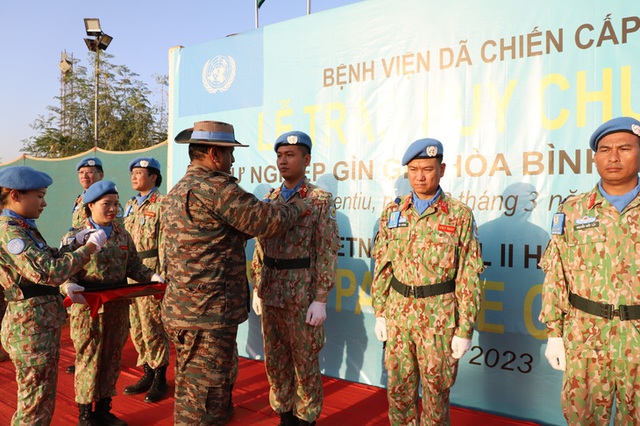 The award ceremony was held in Bentiu, South Sudan, marking an important milestone for the field hospital after nearly a year of duty in South Sudan.
The medals are testament to Viet Nam's contributions to peace and stability in the world.
All the staff members have always strived to successfully complete their duties, contributing to the promotion of the beautiful images of the country and people of Viet Nam.
The hospital has provided high-quality healthcare and treatment for nearly 1,400 UN staff and local people. The staff members have successfully performed several complex surgeries and conducted aero-medical evacuation for 12 patients.
So far, Viet Nam has hosted four field hospitals in South Sudan. The first field hospital was opened in October 2018 and the second and third were launched in November 2019 and March 2021, respectively.
Since 2014, Viet Nam has sent more than 520 military and police officers and soldiers to the UN missions in the Central African Republic, South Sudan and the Abyei Area, and to the UN headquarters./.