Social distancing implemented in parallel with facilitating production activities: PM
VGP – The Government Office has issued a document announcing the Prime Minister's conclusions at the meetings of permanent cabinet members on COVID-19 prevention and control on April 20 and 22.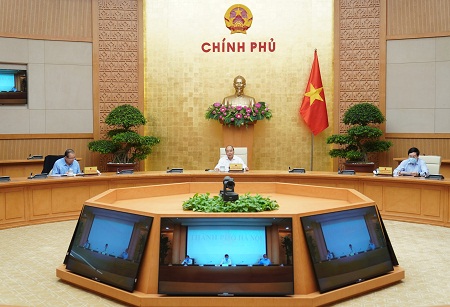 Social distancing implemented in parallel with facilitating production activities: PM
The document stated that in recent days, all levels, sectors and localities, especially Ha Noi and Ho Chi Minh City, have focused on effectively carrying out anti-epidemic measures, including the timely and proper implementation of social distancing measures under the PM's Directive No. 16/CT-TTg.
Viet Nam has curbed the spread of the coronavirus in the community and well controlled the disease through deployment of drastic efforts to prevent, detect, localize and suppress the outbreaks with strong support from the people.
The country has moved on to a new phase of long-term and radical pandemic prevention and control, while ensuring socio-economic development and people's readiness to adapt in the context of well-controlled COVID-19, it said.
PM Phuc noted that the disease remains complicated with a high risk of spreading, requiring all levels, sectors, forces and people to stay vigilant and be not self-satisfied, while drastically preventing the importation of the pandemic and promptly detecting and stamping out outbreaks, thus ensuring the people's health and safety and avoiding serious consequences as currently witnessed around the world.
In addition, the Government chief also ordered continuation of quarantining all entrants into Viet Nam and those infected and at risk of infection with flexible forms, and regularly reviewing and promptly detecting cases for effective isolation and treatment.
He assigned localities to decide on opening door to domestic visitors if they meet requirements on epidemic prevention and control.
While there is no vaccine and specific cure for COVID-19, it is necessary to adapt to the life with the COVID-19 epidemic and gradually create a "new normal state", said the PM./.
By Vien Nhu