Significance of ASEAN community-based mindset and actions in COVID-19 combat
VGP – More than ever, ASEAN is fully aware of the significance of the community-base mindset and actions in the fight against the novel coronavirus (COVID-19).
April 13, 2020 10:00 AM GMT+7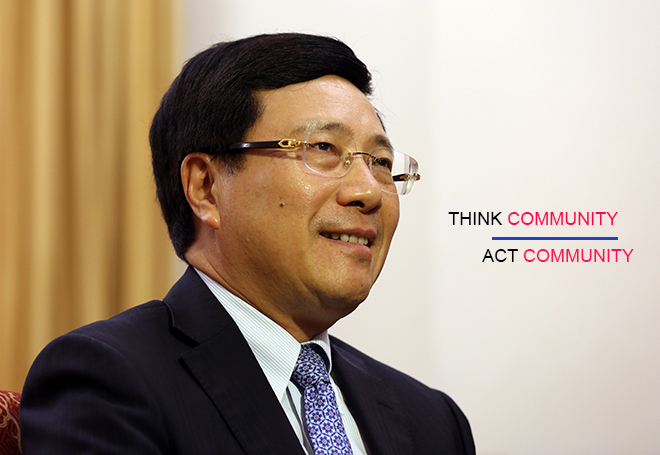 Deputy Prime Minister, Foreign Minister Pham Binh Minh. Photo: VGP/Hai Minh
>>> Review of COVID-19 fight in Viet Nam since March 23
Deputy Prime Minister, Foreign Minister Pham Binh Minh stressed the point in his latest article ahead of the Special ASEAN Summit scheduled to take place on April 14.
Minh expressed his belief that pursuing such approach would demonstrate the shared responsibility and centrality of the bloc in making contributions to ensure that the world would continue integration and prosperous and sustainable development once the pandemic is over.
Over the past three months since Viet Nam assumed the ASEAN Chairmanship role, the nation has made efforts based on the bloc's cohesive and responsive spirit in order to to further consolidate the solidarity and unity among the member countries and between the bloc and its partners.
He called on the ASEAN member countries and its partners to promptly mobilize resources, especially their reserves of medical supplies to meet the urgent requirements and set up a fund to deal with the pandemic with assistance from its partners, including the United Nations and the World Health Organization.
ASEAN needs to standardize and improve the effectiveness of policy and action coordination, with a focus on building procedures for joint responses to epidemic situations.
The COVID-19 pandemic fight must be carried out in tandem with countering economic recession and social instability, in which citizens must be placed at the center and no one is left behind.
He also called on the member countries to perseveringly pursue the common values on free trade and facilitation of investment in order prevent disruption of supply chains and restore cross-border trade and exchanges once the pandemic is put under control as part of the measures to restore socio-economic developments across the region.
By Huong Giang
Last updated: 10: 40 am
Follow us on Twitter @VNGovtPortal