Setting stage for Viet Nam going forward
VGP - Prime Minister Pham Minh Chinh's decisions and commitments over the recent year not only set the stage for a more resilient economy this year but also set the stage for the country going forward in the upcoming time.
April 09, 2022 4:10 PM GMT+7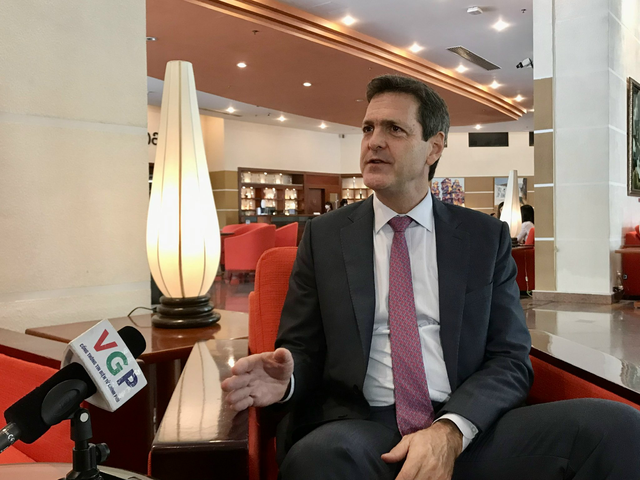 Country Director of the Asian Development Bank (ADB) in Viet Nam Andrew Jeffries made the above statement in a recent interview with the VGP.
Andrew Jeffries said Viet Nam's economy grew more than 5.03 percent in the first quarter of 2022, which is larger than the figures recorded in the same period before the pandemic and that is still a pretty good number in general and compared to most other countries.
The ADB projected Viet Nam's economic growth of 6.5 percent this year and the figure is higher next year without risks.
However, the country is facing some of the uncertainty that could negatively affect its exports. For example, China is going through a serious COVID-19 outbreak and there's lockdowns in certain parts of the country. China is a big trade partner for Viet Nam so that it could negatively affect Viet Nam's exports to China.
Meanwhile, the conflict in Ukraine could lead in the high oil prices that could slow other economies. An open economy is best vulnerable to those things.
As Viet Nam's export markets are relatively well diversified, it means that a slowdown in one part of the world may be offset by growth in other parts of the world. Viet Nam is well positioned to take advantage of that aspect, highlighted Andrew Jeffries.
Besides, the whole world has noticed since the beginning of the pandemic how well Viet Nam has handled the pandemic despite the Delta variant causing some severe impact, he said, adding that the country is among top 10 countries with highest vaccine coverage rate.
The aggressive and fast vaccination program has enabled Viet Nam to become much more resilient with new waves of the pandemic along with other factors, including the maintenance of myriad of multilateral and bilateral free trade agreements, the recovery of domestic tourism and the opening of international tourism that set the stage for faster economic growth this year.
Building a more resilient economy
The economic recovery and development program approved by the National Assembly in January has provided a lot of fiscal and monetary support to individuals and businesses that can reduce economic scarring and revive the economy quicker, said the ADB Country Director.
He stressed the significance of Viet Nam's existing long-term and medium-term strategy such as the digital transformation, which will be very important to improve economic efficiency, competitiveness as well as resilience to cope with future economic shocks. If more services are digitized, Viet Nam will be less affected by big slowdown.
Viet Nam is vulnerable to climate change. The country inevitably needs continued investment in its infrastructure and that investment needs to be designed correctly to be resilient to climate impacts such as storms and flooding,
All of the programs including the green growth strategy, the near-term economic recovery and development program as well as the long-term aspirations of becoming an upper middle income country by 2030 fully developed by 2045 are all on the right track.
Regarding recommendations for Viet Nam to boost economic recovery, Andrew Jeffries said that the impressive vaccination program needs to be continued and further booster shots are needed in the future.
In addition, Viet Nam's impressive commitments of reaching net-zero carbon emission target by 2050 and ending coal fire power generation by 2040 has manifested the country's willing to address the global warming issue.
He supposed that the commitments make Viet Nam more competitive because more consumers around the world are scrutinizing the carbon footprint of the products they buy so as a manufacturing sender, Viet Nam needs to take that into account.
On the other hand, more foreign investors who have their own climate commitments want to invest in places where they have access to clean energy and lower carbon services and so that could be a factor in improving Viet Nam's attractiveness.
As the high global fuel prices exasperated by current issues and tensions around the world, this negatively affects Viet Nam's trade balance and balance of payments so clean and renewable energy adds a lot to energy security.
To support Viet Nam in boosting economic recovery, the ADB has provided highly concessional green financing for increasing private investment and incentivizing the right kind of private investment for further medium-term growth and recovery.