Senior business leaders discuss creative connections
VGP – Foreign senior business leaders gathered in Da Nang city on Friday to discuss creative connections in a conference organized by Standard Chartered.
November 16, 2013 7:18 AM GMT+7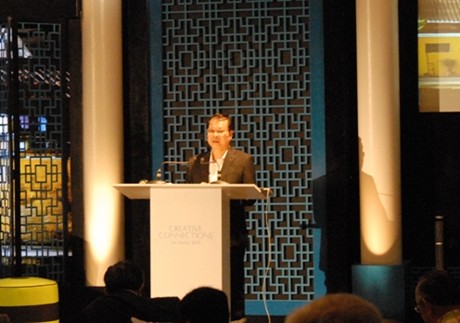 Deputy PM Vu Van Ninh - Photo: VGP
The event was attended by Deputy PM Vu Van Ninh who shared with the business leaders the Vietnamese Government's macro-economic management and foreign direct investment (FDI) policies.
Despite global economic downturn in recent years, Viet Nam has succeeded in stabilizing macro-economy, curbing inflation thanks to right and drastic measures and substantive contribution of business community, including FDI sector.
At present, the country is home to foreign investors from 100 countries and territories with total 15,475 valid projects worth over US$227 billion of registered capital, of which the disbursed volume reached US$109 billion.
In the first ten months of 2013, Viet Nam granted licenses to 1,050 new projects, reflecting the country's attractive economic outlook, said Deputy PM Ninh.
FDI sector alone has always been an active stakeholder, which contributed more than 18% to the GDP over the past five years.
In a bid to better the business environment, Deputy PM Ninh affirmed that the Government is focusing on realizing strategic breakthroughs, namely institutional improvement, human resource and infrastructure development.
Viet Nam is also accelerating economic restructuring in combination with growth model transformation towards sustainable development, according to the Deputy PM.
Moreover, the country is actively integrating into the global economy through seeking free trade agreements with other partners.
Deputy PM Ninh expressed his belief that FDI sector will continue to grasp good investment opportunities in Viet Nam./.
By Hai Minh