Seemingly impossible things done in Covid-19 fight
VGP – We demonstrated solidarity and unity, and did the seemingly impossible throughout the fight against Covid-19, thus bringing peace to our people and getting our country's development course back on track, said Prime Minister Pham Minh Chinh.
October 29, 2023 5:28 PM GMT+7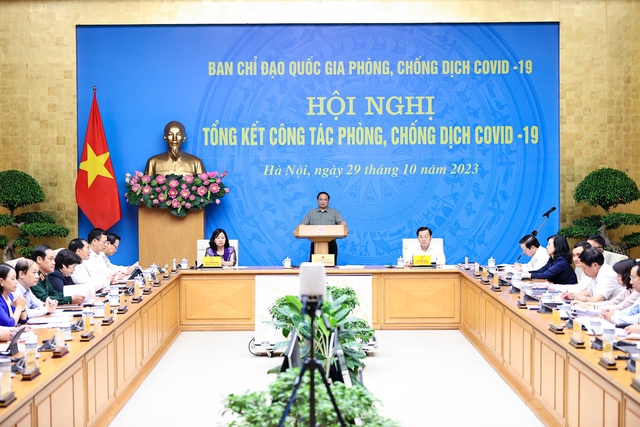 Pham made the above remarks at a meeting to review the performance of the National Steering Committee for Covid-19 Prevention and Control in Ha Noi on Sunday.

Viet Nam has overcome the pandemic which has left profound impacts on health, life and socio-economic development across the world and became one of the first countries to resume domestic economic activities from October 11, 2021 and to reopen its borders with the world from March 15, 2022 thanks to the involvement of the whole political system, the participation of citizens and businesses, the support and assistance from international friends and partners.
Pham recalled challenging times when infections were spreading at unprecedented pace while the country had no vaccines and test kits and its healthcare system were not designed to deal with public health emergencies.
The Prime Minister named major turning points in the fight against Covid-19 pandemic as follows:
- On December 2019, the first Covid-19 case was recorded in the world.
- On March 11, 2020, the World Health Organization officially declared Covid-19 a global pandemic.
- On January 23, 2020, Viet Nam reported first Covid-19 infection.
- On March 30, 2020, Party General Secretary Nguyen Phu Trong appealed to compatriots, comrades and soldiers nationwide and overseas Vietnamese to stay united in the fight against the Covid-19 pandemic.
- On March 31, 2020, the Prime Minister issued Directive No. 16 on imposing social distancing nationwide for 15 days, starting from April 1, 2020.
- On April 27, 2021, Viet Nam faced the fourth wave of Covid-19, with infections rising fast in 62 out of 63 localities,
- On July 29, 2021, Party General Secretary Nguyen Phu Trong made second appeal, calling on compatriots, comrades and soldiers nationwide and overseas Vietnamese to join hands in the pandemic fight as the country faced the fourth wave of Covid-19.
- In July 2021, Viet Nam introduced formula "5K+ vaccine" for Covid-19 fight, which means khau trang (facemask), Khu khuan (disinfection) - Khoang cach (distance)- Khong tu tap (no gathering) – Khai bao y te (health declaration) plus vaccines. The formula was then expanded to include other components such as treatment, testing, technology, and people's awareness.
Regarding vaccines, the Government launched a fund to mobilize resources for purchasing vaccines; deployed vaccine diplomacy to access to vaccines due to limited supply; and carried out the largest-ever vaccination campaign for all.
On October 11, 2021, the Government issued Resolution No. 128/ND-CP, marking the strategic shift from zero-Covid policy to safe and flexible adaptation to the pandemic as the vaccination rate was relatively high and the country became more experienced in containing the pandemic.
- On October 20, 2023, Covid-19 was officially reclassified from Class A to Class B, meaning COVID-19 was no longer part of the group of extremely dangerous infectious diseases with the potential for rapid transmission, widespread distribution, and a high death rate or unclear pathogens./.