Seaports must go green since 2030
VGP – All seaports in Viet Nam shall mandatorily go green from 2030, according to the Viet Nam Maritime Administration's Decision No. 710/QD- CHHVN approving green seaport development plan.
July 05, 2021 2:16 PM GMT+7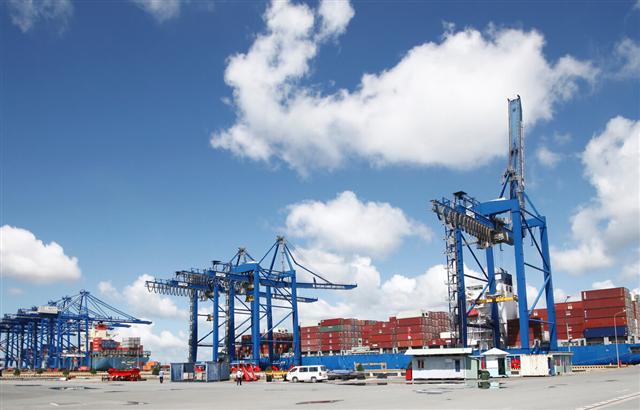 Tan Cang - Cat Lai Port in HCMC - Illustration photo
Under the decision, basic standards on green port criteria will be developed and issued in 2021 and 2022.
From 2023 to 2025, the modal of green ports will be piloted in Viet Nam.
In the 2025-2030 period, nationally technical criteria on green ports will be developed and issued.
After 2030, the green port criteria will be included in planning, construction investment, and business exploitation.
According to the International Maritime Organization (IMO), greenhouse gas emissions of the shipping industry (international and domestic transport and fishing) grew by 9.6% in the 2012-2018 period (from 977 to 1,076 million tons).
By 2050, the above figure would double that of 2018. Asia and Africa were forecast to experience the biggest surges due to increasing number of ports and limited measures on pollution reduction.
Last year, the International Transport Forum revealed that greenhouse gas emissions of the shipping industry yearly cost nearly €12 billion at 50 world's biggest ports. About 230 million people had direct contacts with the gas emissions at 100 ports. Hence, green port performance has become a new trend not only in the world but also in Viet Nam. The reduction of greenhouse gas emission reduction benefits maritime economies and protect people's health.
As of early April, the number of seaport terminals in Viet Nam rose to 286, up eight terminals from April last year.
Tan Cang Cat Lai Terminal in Ho Chi Minh City was the first seaport in Viet Nam to receive the Green Port Award by the APEC Ports Service Network (APSN) Council, in 2018.
Tan Cang – Cai Mep International Terminal (TCIT) in the southern province of Ba Ria - Vung Tau was the second seaport in Viet Nam to have claimed the prestigious award.
The Green Port Award System (GPAS) program is a green evaluation system for ports in the APEC region developed by APSN. It represents an integral part of APEC Transportation Working Group's ongoing efforts to promote green growth in the port industry.
The objective of GPAS is to encourage green and sustainable development in port and port-related industries.
TCIT not only helps customers by saving costs and reducing waiting time at the terminal but also by minimizing its negative impacts on the environment.
Other solutions introduced by the seaport include systems to reduce dust in the air, the planting of trees along berths to reduce noise and radiation, building internal roads to improve the landscape and surrounding air environment, and installing specialized treatment and recycle systems for hazardous and solid waste.
TCIT has also revamped its staff training programs on environmental protection as well as organized many activities to protect the local environment./.
By Kim Anh