Revised Law on intellectual property passed
VGP - The revised Law on Intellectual Property (IP) was approved at the last working day (June 16) of the 15th NA's third session.
June 16, 2022 8:21 PM GMT+7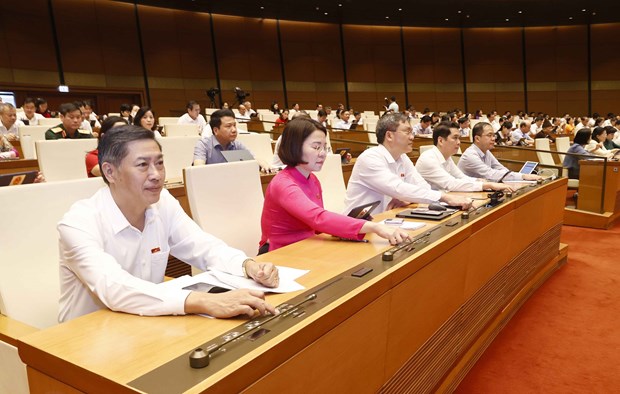 The Law on Intellectual Property was passed by the National Assembly in 2005 and took effect on July 1, 2006, and then revised twice in 2009 and in 2019, containing uniform, synchronous and transparent provisions to regulate IP issues.

Currently, the Law basically conforms to the standards set forth by the Agreement on Trade-Related Aspects of Intellectual Property Rights (TRIPS Agreement) and other fundamental treaties relating to IP, such as the Paris Convention for the Protection of Industrial Property Rights, the Berne Convention for the Protection of Literary and Artistic Works, the Convention for the Protection of New Plant Varieties. Those standards are demonstrated in many aspects, such as types of objects of protection, standards of protection, content and scope of rights, term of protection, protection mechanism and procedures for establishing IPRs.
After more than 15 years of implementation, the Law has revealed certain shortcomings and limitations, thus it is necessary to amend and supplement a number of articles of the Law in order to institutionalize the guidelines of the Party, policies and laws of the State.
According to Dr. Dinh Huu Phi, Director of the IP office of Viet Namunder the Ministry of Science and Technology, the newly revised Law can be categorized into seven major policy groups as follows:
Policy 1: Ensuring clear provisions on authors, copyright holders, performers, and related rights holders in cases of assignment and transfer of copyright and related rights
Policy 2: Encouraging the creation, exploitation and dissemination of inventions, industrial designs and layout designs generated with state budget funds.
Policy 3: Facilitating the performance of procedures for registration of copyright and related rights and establishment of industrial property rights in the direction of simplicity, compactness, speediness, convenience and transparency.
Policy 4: Ensuring an adequate and balanced level of IPRs protection.
Policy 5: Raising the effectiveness of IP support activities
Policy 6: Improving the effectiveness of IPRs protection activities
Policy 7: Ensuring full and serious implementation of Viet Nam's international commitments on IP protection in the process of international integration./.