Remote platform, Bluezone app launched in support of medical treatment, including COVI-19
VGP - Prime Minister Nguyen Xuan Phuc on Saturday attended a launching ceremony of a remote medical examination and treatment platform and Bluezone app designed to support remote hospitals in medical examination and treatment, including COVID-19.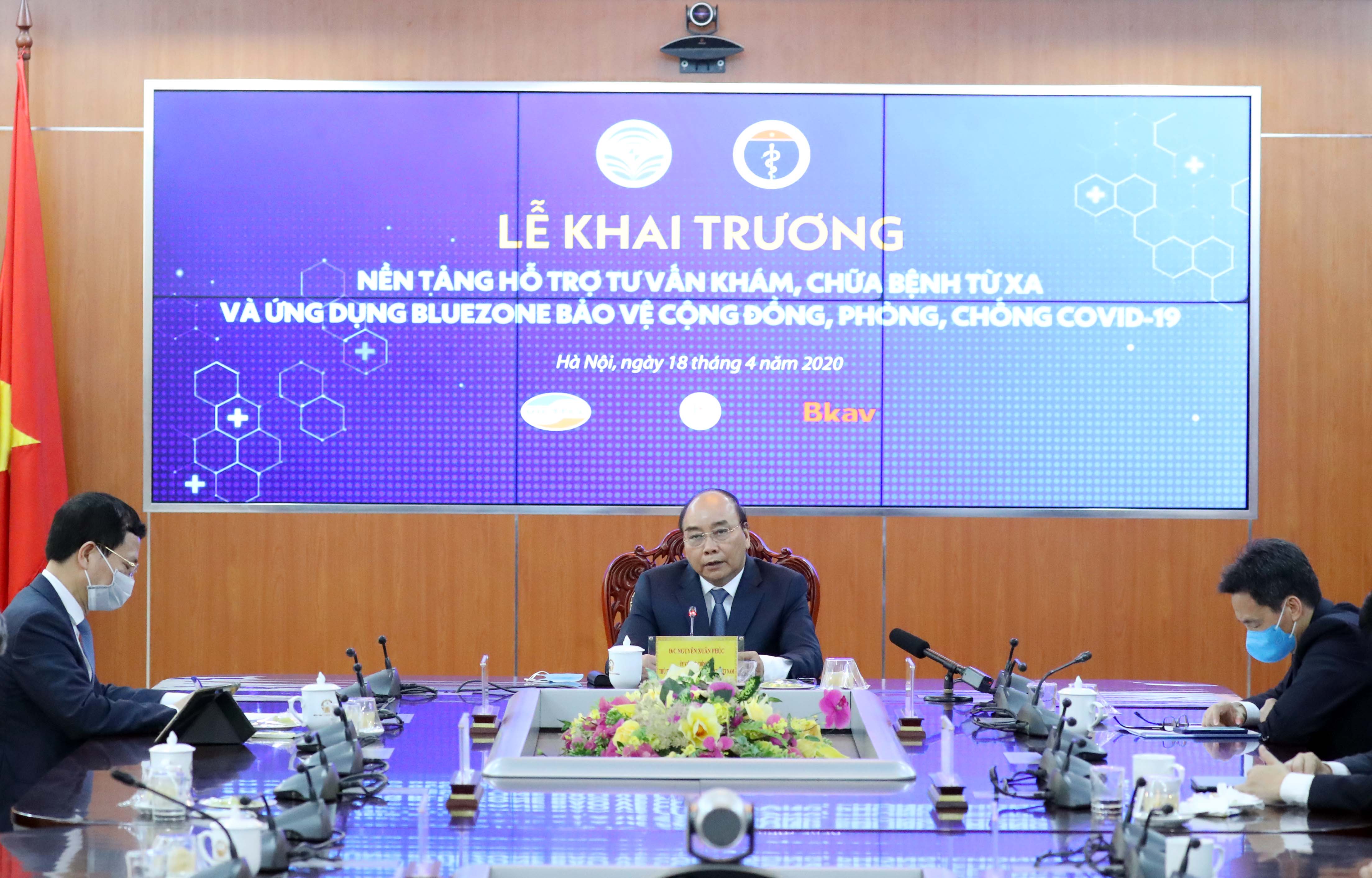 Prime Minister Nguyen Xuan Phuc at the launching ceremony of the remote medical examination and treatment platform and Bluezone app, Ha Noi, April 18, 2020. Photo: VGP
The event was jointly organized by the Ministry of Information and Communications and the Ministry of Science and Technology.
The platform, developed by military group Viettel, can provide such services like remote medical consultation, remote surgery consultation, remote training, and remote tech transfer among others.
The platform is expected to increase medical examination and treatment capacity of remote hospitals and reduce patient overload at central hospitals, thus helping save billions of Viet Nam Dong each year.
With this platform, experienced doctors can provide thorough and direct consultations for the patients in far-flung hospitals across the nation.

Meanwhile, Bluezone is a Bluetooth low energy solution that can be installed on smart phones.
This app can help detect others within 2 meters and memorize themselves. If the app user is positive for the COVID-19 (known as F0), through the saved data, health authorities can identify the F1 in close contact with F0 and the system will alert the F1 users about the risk of infection.
Users will be also provided with instructions to contact the competent health authorities for assistance.
Addressing the event, PM Phuc underlined the introduction of the platform at this time as it provides another tool for citizens to protect their health.
It is also an initial milestone toward the digital transformation of the health sector and a step forward to realizing the goal of turning the country into a digital nation.
He tasked the Ministry of Information and Communications and the Government Office to promptly finalize and submit to the Government a national digital transformation program for issuance in April this year, in order to accelerate digital transformation across social fields.
Last month, the Ministry of Health also launched a Telemedince Center for COVID-19 Outbreak Control amid fast spreading of the epidemic around the world.
The center is responsible for managing resources and professional activities in support of health clinics in receiving, quarantining, diagnosing, and treating COVID-19 patients indirectly or online, even clinics in remote areas.
Through the support of information technology, experts and doctors can see patients and medical parameters, and conditions of patients from respiration to electrocardiogram so that they can make recommendations on mechanical ventilation and infusion for lower-level colleagues.
The center will help handle the problem of understaffing if the outbreak spreads widely while reducing close contacts between medical staff and COVID-19 patients,
By Quang Minh