Quynh brings home kurash bronze, xiangqi team take silver
VGP — The Viet Nam's Asian Games highlight on October 2 was a bronze medal in kurash competition in Hangzhou's Xiaoshan Linpu Gymnasium, China.
October 03, 2023 6:13 AM GMT+7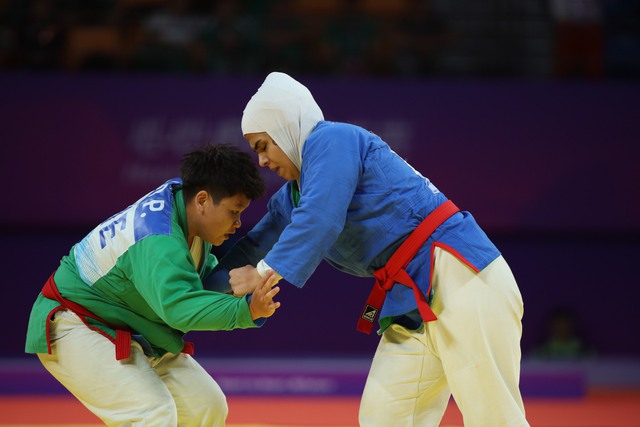 Vo Thi Phuong Quynh took third place in the women's 67kg category after losing in the semi-final match. She could not overthrow the domination of the 2033 world championship winner Zahra Bagheri of Iran.

Quynh, practising kurash since June, shared the third place with Melika Vandchaly, another Iranian fighter, who was defeated by Liu Yi of the hosts.
Liu went on to beat Bagheri to take gold.
Speaking to reporters after her match Quynh said she really expected to make semi-finals but her rival was really strong.
However, the bronze is an impressive achievement for her as she was originally a judo artist and it was her first international competition since practicing kurash.
With this result, the 25-year-old girl helped her team complete its goal of winning a bronze at Games.
On the same day, the women's sepak takraw (rattan ball kicking) team defeated the Japanese team 21-11, 21-18 to book a ticket to the semi-finals.
The defending champions will next play Indonesia in the last group round match.
They are Viet Nam's golden hope at this Asian Games.
Vietnamese archers also had a successful competition day, winning tickets to the quarter-finals in the women team's recurve, mixed team's compound, and mixed team's recurve events.
Earlier on the weekend, Viet Nam took silver in the mixed team xiangqi (Chinese chess) event.
The Vietnamese team gathering national top masters Lai Ly Huynh, Nguyen Thanh Bao and Nguyen Hai Yen outstandingly won three, drew one and lost one in the qualification round to advance to the final.
They lost to powerful China in the gold-medal match and took the second position.
After the team event, masters will compete for titles in the men's and women's individual categories.
"Our silver is a regrettable result but anyway it helped my players evaluate their opponents for the individual competition," said coach Hoang Dinh Hong.
"We all know that China are really strong in this sport but I believe that our players, especially the male ones, could vie for gold against them. On the women's side, it is tough to steal gold from Chinese masters who are better than us in term of experience and technique. But I think silver or bronze is possible."
Meanwhile player Huynh said he would first try his best for a berth in the final. When the first task is done, he would plan for the top podium.
After nine days of activities, Viet Nam have collected one gold, two silvers and 13 bronzes to take No 18 place.
China have won 147 gold to early ensure their top position in the medal tally.
Japan and South Korea have earned 33 and 31 golds for the second and third places, respectively./.