Quảng Ninh urged to maximize resources
VGP - PM Nguyễn Tấn Dũng has urged the northern coastal province of Quảng Ninh to maximize its resources, develop infrastructure in a synchronized and modern manner, and improve the investment environment to draw more domestic and foreign investors.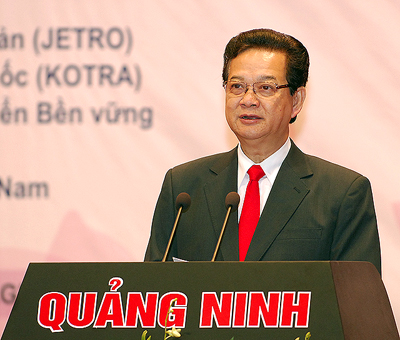 PM Nguyễn Tấn Dũng at the Quảng Ninh Investment Promotion Conference 2012 - Photo: VGP
At an investment promotion conference, jointly held by the provincial People's Committee and the Ministry of Planning and Investment in Quảng Ninh on Feb. 24, PM Dũng said that Quảng Ninh plays a leading role in regional development as it has both geographical and economic advantages along with mineral resources and popular cultural and natural heritages.
PM Dũng asked the province to proactively integrate into the world, effectively implementing the "Two corridors, one Việt Nam– China economic belt" cooperative program and paying attention to developing border trade.
He also requested the province to turn Móng Cái into a modern international border gate to develop the coastal economic belt linking Quảng Ninh and Red River Delta provinces and China's Guangxi province, as well as strongly promote trade, investment and tourism between Việt Nam and China, and between Việt Nam and ASEAN countries for mutual benefit and development.
The Vietnamese Government will continue improving the investment environment, especially maintaining macroeconomic stability and a reasonable growth rate, bringing inflation under 10% this year and lower in the following years, and create favorable conditions for investors to work long-term in Việt Nam, PM Dũng said.
At the event, participants sought investment opportunities in the province and put forward policies for inter-provincial development, contributing to drawing maximum resources for the national socio-economic development effort.
The province also introduced investors to nearly 20 FDI projects in the fields of tourism and entertainment services, seaport, logistic system, wholesale trade, infrastructure and training.
Noteworthy among infrastructure projects was Hải Hà seaport industrial zone, worth over US $3 billion, a non-tariff area and green industrial park in Vân Đồn economic zone worth nearly US $1.5 billion and Vân Đồn international airport worth about US $1.2 billion.
The provincial leader also presented investment licenses to a wheat flour mill worth 47 million USD, Hoành Bồ industrial zone worth US $182 million and a tourism complex worth US $42 million .-VNA