Quang Ninh retains top position in Viet Nam PCI rankings 2022
VGP - The northern coastal province of Quang Ninh once again topped Viet Nam's Provincial Competitiveness Index (PCI) 2022.
April 11, 2023 1:05 PM GMT+7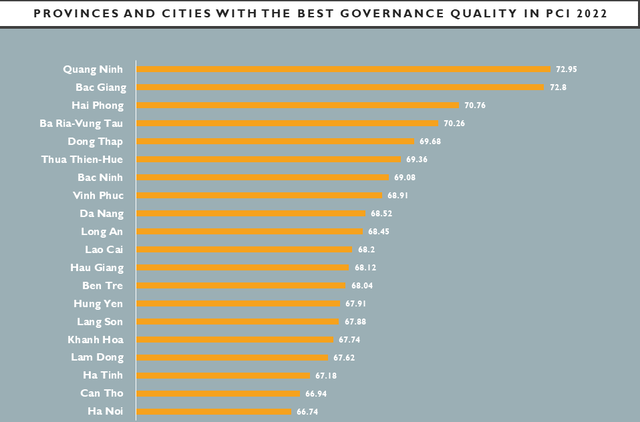 According to the PCI 2022 report released by the Viet Nam Chamber of Commerce and Industry (VCCI) at a ceremony in Ha Noi on April 11, Quang Ninh province gained the highest score of 72.95 points.
This is the 6th year in a row Quang Ninh has defended its top position in the table. It was followed by the northern province of Bac Giang with 72.8 points, and the northern port city of Hai Phong with 70.76 points.
Other cities and provinces in the top ten rankings include Ba Ria-Vung Tau, Dong Thap, Thua Thien-Hue, Bac Ninh, Vinh Phuc, Da Nang and Long An.
Meanwhile, Ho Chi Minh City, the country's largest economic hub, dropped 13 notches to 27th place out of 63 provinces and cities across the country last year.
The capital city of Ha Noi dropped out of the top 10 localities in the ranking, falling from 10th place in 2021 to 20th position in 2022.
The 2022 PCI report, the 18th edition, assembles the collective business perceptions regarding economic governance and reform endeavors across Viet Nam's 63 cities and provinces.
The PCI remains a reliable and useful tool that features the policy making efforts at all levels, depicts the administrative reforms across localities, and promotes business environment reforms while providing a reference for investors when making business decisions.
By exploring firms' perceptions and experiences in provinces where they are running business, the PCI can identify problems arising from the execution of policies in reality and figure out ways to fix them.
The 2022 PCI report, based on the responses of over 12,000 firms, reveals the tremendous efforts of both businesses and provincial governments in navigating through the rough COVID-19 pandemic.
Both domestic and foreign firms reported improvements in administrative procedures, reductions in the time costs of bureaucratic compliance, and liberation from the burdens of informal charges.
However, the effects of the challenging economic context are also clear in this year's report, as reforms in many policy areas slowed and business optimism remained low.
In this year's report, the Provincial Green Index (PGI), an initiative developed by VCCI with the support from the United States Agency for International Development (USAID) and private sector partners, was launched.
This index evaluates and ranks provinces' environmental policy from the perspective of businesses with the goal of promoting better business behavior and practices, including the application of new green technologies./.