Public debts under control
VGP – The Ministry of Finance (MoF) has always controlled public debts and will supervise domestic and foreign loans to prevent waste, said Minister Dinh Tien Dung.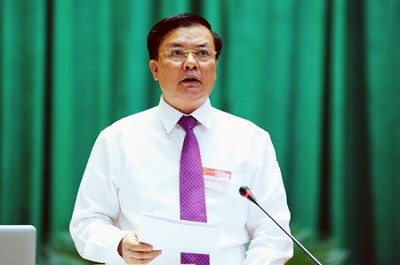 Minister of Finance Dinh Tien Dung - Photo: VGP/Nhat Bac
Public debts have not changed much over the past few years. The public debt-to-Gross Domestic Product (GDP
)
ratio was maintained at 51.7% in 2010, 50% in 2011, 50.8% in 2012 and 53.4% in 2013.
The ratio remains below a safe limit of 65%.The central government debt now is 44% of the country's GDP, lower than the safe threshold of 55% allowed by the NA.
The Minister revealed that the ratio of debt payment over the public debt in 2013 attained 25%, 10% of which was debt rollover.
In addition, the total refinancing now accounts for around 6.9% of the total GDP. In 2014, the Government will withdraw the foreign capital of VND96,000 billion, of which VND60,000 billion will be used for refinancing. In 2013, the Government's external debts and refinancing were VND 760,000 billion and VND266,000 billion, respectively.
Mr. Dung initiated that Viet Nam's loans from China to launch projects are not much. China's investment in the stock market only accounts for 0.33% of the total capitalization of Viet Nam's stock market.
The Minister affirmed that such measures as tackling difficulties for businesses to increase State budget revenues, restructuring public debts and practicing thrift for public spending will be taken.
The National Assembly suggested the Government restructure loans, transfer short-term loans into long-term ones to create forces for the national development. In addition, the financial sector cooperates with other relevant localities and agencies to prevent tax fraud and evasion.
By Thuy Dung