Program supporting enterprises in optimising opportunities from EVFTA debuts
VGP - A cooperation programme to help businesses to optimise advantages from the EU-Viet Nam Free Trade Agreement (EVFTA) through the Viet Nam-EU e-commerce platform made debut on March 26.
March 27, 2021 9:41 AM GMT+7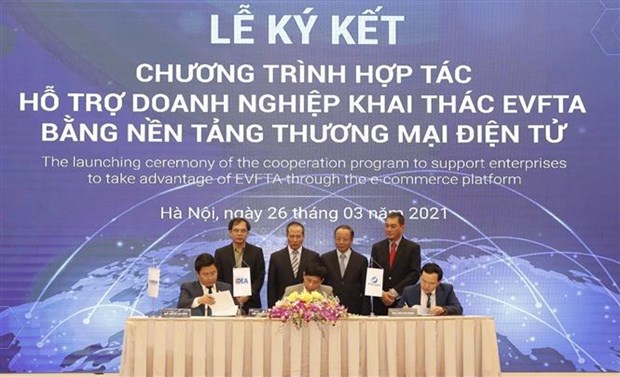 At the signing ceremony (Photo: VNA)
The program was signed among the Ministry of Industry and Trade (MoIT)'s Department of E-Commerce and Digital Economy, the Viet Nam Institute of Business Management Science and Digital Economy (VIDEM), the Association of Small and Medium-Sized Enterprises, and the Kim Nam Group.
Addressing the signing ceremony, MoIT Deputy Minister Cao Quoc Hung hailed efforts of all parties in putting the Viet Nam-EU e-commerce floor into operation as soon as possible, thus helping Vietnamese firms to grasp opportunities from the EVFTA.
He underlined that amid the fourth Industrial Revolution, the improvement of competitiveness and the development of infrastructure system may create breakthroughs.
Hung noted that last year, under impacts of the COVID-19 pandemic, e-commerce in Viet Nam grew 18 percent to over US$11 billion, enabling people to shop for almost everything online.
The Deputy Minister said e-commerce platforms such as Alibaba and Amazon have helped micro-sized enterprises and business households to export their products, which seemed to be impossible in the past. He held that with technology advances, it is necessary to seek solutions to create breakthroughs in assisting Vietnamese businesses in getting access to foreign markets such as the EU.
The official affirmed that the programme is expected to be the first step in the roadmap of designing fundamental technology-cored solutions to assist enterprises, especially SMEs and business households in improving capacity and opportunities to reach international markets, thus optimising opportunities offered by the EVFTA.
For his part, Dang Hoang Hai, Director of the Department of E-Commerce and Digital Economy said that along with difficulties, COVID-19 has also brought in opportunities for Viet Nam in speeding up transition.
The Department has cooperated with agencies representing the SME community of Viet Nam to help them grasp chances from the deal, he said.
Hai adding that the Viet Nam-EU e-commerce floor is expected to realise the goal of connecting relevant digital solutions to build a complete digital ecosystem, helping businesses to make trading activities on a single platform.
VIDEM Director Nguyen Kim Hung said that the floor is a national-scale project that aims to create a B2B Marketplace, while building an "expressway" connecting Vietnamese firms with international partners, especially those from Europe.
Hung said that the floor is connected with the existing trading floors of cities and provinces, helping to build a national database facilitating the transparency in origin of products, and providing information to the business community of Viet Nam and other countries on trade deals and relevant policies.
The trading floor is also expected to contribute to bolstering the partnership between Viet Nam and the EU, especially in economy and trade.
Nguyen Van Than, a representative from the Association of Small- and Medium-Sized Enterprises, proposed that the VIDEM seek solutions to facilitate Vietnamese firms' integration and protect them from risks and challenges while the trading floor becomes officially operational.
Statistics showed that the EU is one of the leading trade partners of Viet Nam with two-way trade reaching US$56.45 billion in 2019, including US$41.5 billion worth of Vietnamese exports./.