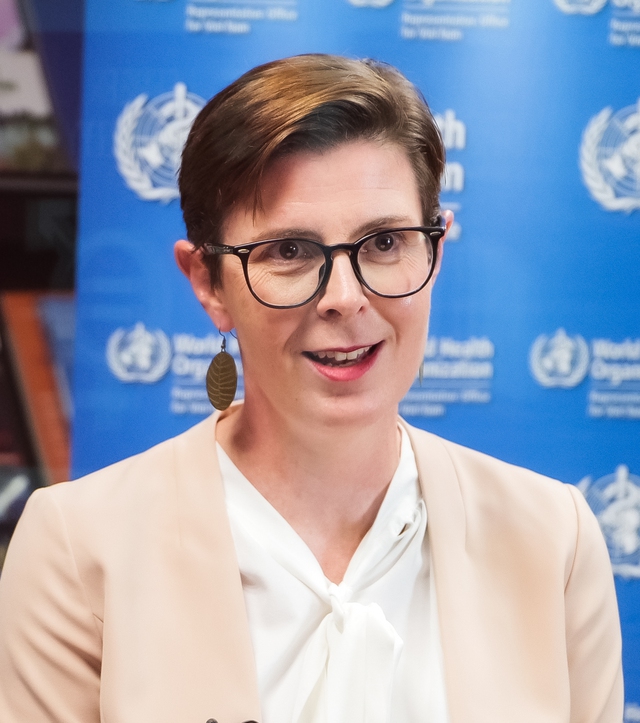 Dr. Angela Pratt granted an interview to the Viet Nam Government Portal on the threhold of the Lunar New Year Festival in Viet Nam following the emergence of new SARS-CoV-2 variants including this Omicron XBB.1.5 variant.
Dr. Angela Pratt said the emergence of new SARS-CoV-2 variants including this Omicron XBB.1.5 variant shows that unfortunately, the COVID-19 pandemic is not over yet.
As long as COVID-19 continues to circulate, there is a risk of new surges in cases and the emergence of dangerous new variants.
Since June 2022, Omicron has been the only variant of concern circulating globally; however, from the Omicron variant but several other sub-variants, including XBB – which is a recombinant – or combination – of two other Omicron sub-variants have been detected.
XBB and its subvariants have now been reported in over 10 countries in this Region, including Viet Nam, and it is likely to continue to spread.
The Omicron XBB.1.5 variant is a sublineage of XBB and although studies are ongoing, at the moment, WHO continues to recommend the same precautions for XBB.1.5 as we do for other Omicron sub-variants and COVID-19 more broadly. That is: mask up in high-risk settings such as crowded and enclosed places, frequent handwashing, and for both adults and children, please make sure you are fully vaccinated, including with all recommended booster doses.
During this holiday season – we of course want people to have fun and to enjoy time with friends and family, but we also urge people to be vigilant – in order to stay healthy and safe.
Regarding the situation of infection of variant XBB.1.5 around the world, Dr. Angela Pratt said: "Overall, we are seeing this variant increasing in reported cases in Europe and North America, and possibly also Asia - based on the limited number of sequences available so far."
WHO recommends the same precautionary measures for XBB and its subvariants as have been done for other Omicron subvariants. Given the Lunar New Year holiday is approaching when population mobility and social mixing are increasing, guidance from the Government of Viet Nam is important to reinforce these measures to continue to keep people healthy and safe,Dr. Angela Pratt said.
Viet Nam started transitioning to so-called 'sustained management' phase of COVID-19 from early last year – and has been doing a very good job of balancing economic and social development with protecting health and safeguarding the health system. While COVID-19 is circulating in Viet Nam, there are no current signs of health facilities being overwhelmed with COVID-19 cases – but people should not be complacent.
Unfortunately, the pandemic is not yet over and people are still being infected, hospitalized – and dying – in many countries, all over the world. And while the virus is circulating anywhere, all countries and all of us individually still face some risk, she said.
WHO continues to encourage all countries to maintain vigilant surveillance for the SARS-CoV-2 virus and carry out genomic surveillance among representative samples, and to share these sequences on publicly available platforms so that analyses can be carried out to further our understanding of circulating variants, including the XBB.1.5 variant, according to Dr. Angela Pratt.
Given the ongoing circulation of COVID-19, which can be attributed to the emergence of new variants and subvariants including XBB.1.5, which are more transmissible, Viet Nam needs to step up efforts to reduce the spread of the virus and increase protection against severe disease and death, especially for those most at risk. This includes the need for people to: ensure they are fully vaccinated, including with all recommended booster doses; keep masking up especially in high-risk settings such as crowded and enclosed places; and maintain other basic hygiene measures such as frequent handwashing.

In particular, WHO encourages people in Viet Nam to practice the basic protection measures when they are travelling over the Tet holiday period.
WHO also encourages all countries to maintain strong testing and surveillance capacities, including for tracking and monitoring of COVID-19 variants – and to share genomic sequencing data, as new variants can emerge from anywhere and the virus continues to change.
Dr. Angela Pratt said WHO has been working side by side with the Government of Viet Nam and the Ministry of Health in the fight against COVID-19 from the start of the pandemic and the collaboration will continue in the time ahead.

WHO's focus in 2023 will be ongoing support for the Government with its sustained management of COVID-19 efforts, while also working together to strengthen health system capacities to address other diseases and public health priorities.
Among the various technical areas, emphasis will be given to: strengthening surveillance systems to ensure that COVID-19 surveillance is embedded in respiratory disease systems; tracking and monitoring new variants of concern and subvariants; and the sharing of genomic sequencing in global platforms. This will help provide necessary data to inform accurate risk assessments and guide timely and appropriate responses, not only in Viet Nam, but for the regional and global context./.