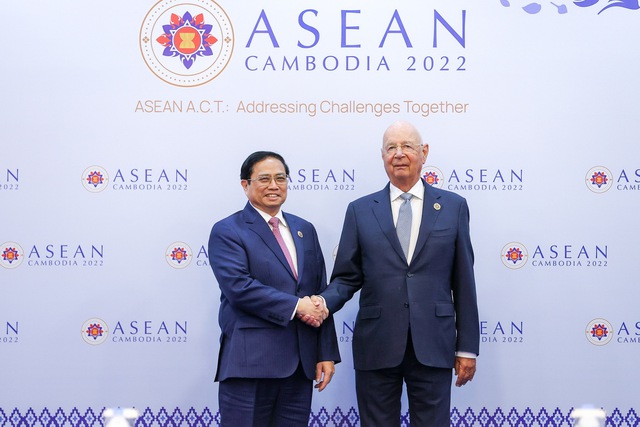 This is the first meeting between Pham and Klaus Schwab after the phone conversation held in April this year.
Klaus Schwab said that he hopes to welcome the Vietnamese Government leader to take part in the WEF Annual Meeting in Davos, Switzerland next year.
The participation and contribution of Viet Nam will bring an optimistic economic rebound story amidst challenges for the global economy, he noted.
The WEF leader pledged to closely coordinate with relevant agencies to propose and launch practical cooperation projects in line with Viet Nam's interests and the WEF's advantages such as the Center for the Fourth Industrial Revolution, digital skill training and green conversion.
For his side, Pham thanked the support of Klaus Schwab for Viet Nam to promote cooperation between the Southeast Asian nation and the WEF more effectively.
He underscored WEF's important role in shaping new ideas and cooperation models to jointly solve common global challenges.
The Government chief suggested the WEF step up consultation to help Viet Nam build an independent and self-reliant economy that integrates into the global system, and design policies to stabilize the macro-economy.
The WEF should connect Viet Nam with global corporations and investment funds, support the diversification of markets for Vietnamese goods and upgrade the nation's status in the global and regional supply chains, recommended the PM.
He asked the WEF join hands with Viet Nam to organize global and regional meetings in the country in the upcoming time.
Both sides pledged to early reach consensus on the contents of the Viet Nam-WEF cooperation agreement for the new stage, thus fostering the relationship more intensively, practically and effectively./.