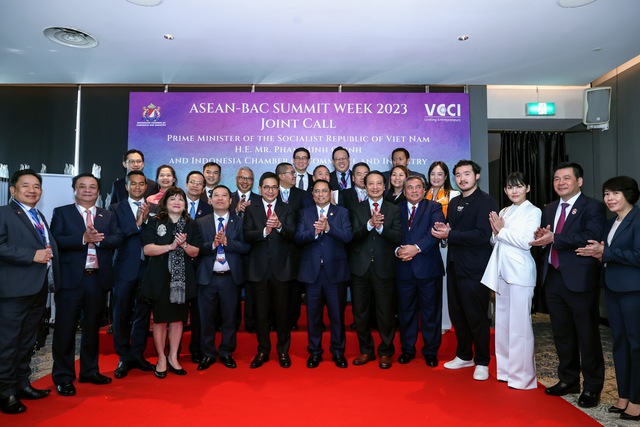 Prime Minister Pham Minh Chinh made the above statement during his meeting in Jakarta on September 5 with leaders of the Indonesian Chamber of Commerce and Industry (KADIN) and top Indonesian corporations.
The working session also saw the participation of representatives from the ASEAN Business Advisory Council (ASEAN-BAC), the Viet Nam Chamber of Commerce and Industry, and businesses from Viet Nam.
Viet Nam has put in place policies to attract projects in fields of high-tech, innovation, research and development, digital economy, green economy, circular economy, sharing economy, sustainable development, and strategic infrastructure, noted Pham.
As Viet Nam looks to reach its net-zero carbon emission target by 2050, it has adopted policies to facilitate the development of electric vehicle ecosystem, he said, suggesting both nations work to exploit minerals for green development such as producing electric vehicle batteries, and selling carbon credits.
He expected that Indonesian enterprises investing in Viet Nam will uphold social responsibilities, and increase investment in housing development for middle-income and low-income people.
The two countries should sign agreements on rice and rubber to allow them to work together in ensuring stable supply, and products on the basis of harmonious benefits, and shared risks, Pham suggested.
He proposed the VCCI and KADIN enhance close and effective coordination in fostering linkages between the two countries' enterprises.
Pham asserted that the Vietnamese Government always creates favorable conditions for foreign investors, in general, and those from Indonesia, to launch long-term, sustainable and successful operation in Viet Nam.
Indonesian enterprises hailed the potential in cooperation between the two sides' businesses, underlining the need to endorse collaboration in terms of finance, banking, electric vehicles, renewable energy, mining of minerals such as rare earth, housing for low-income people, agriculture, rice trading, rubber, and trading in carbon credits.
The bilateral trade hit US$14.1 billion in 2022 and US$7.9 billion over the first seven months of 2023, making Indonesia the third largest trade partner of Viet Nam in the Southeast Asia.
As of June 20, 2023, Indonesia poured US$645.8 million in 113 projects, ranking 29th among 143 nations and territories investing in Viet Nam./.