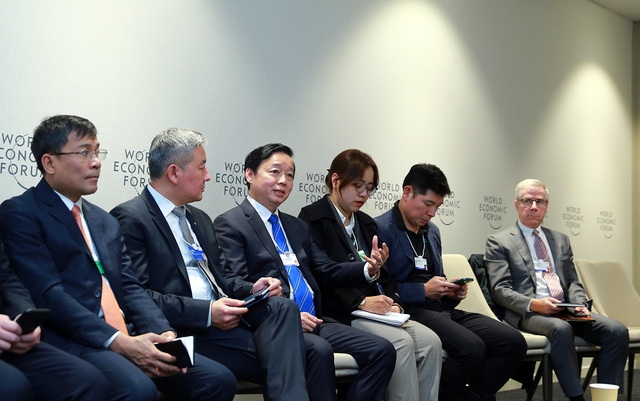 The discussion with leaders of global enterprises was held specifically by WEF for Viet Nam at this year's meeting.
It attracted about 20 executives of WEF member businesses operating in such fields as energy, green technology, and finance - banking.
The Deputy Prime Minister highlighted Viet Nam's development viewpoint that people are the center, key player, goal, and momentum of sustainable development.
Viet Nam will no longer sacrifice social equality and social progress or the environment for mere economic growth, said Tran, adding that the Southeast Asian naiton is determined to implementing the strategic breakthroughs in infrastructure, regulations, and human resources.
He took the occasion to urge global business leaders to boost cooperation with Viet Nam to help the country to fulfill development goals as follows:
Firstly, to create and maintain a stable macro-environment for development while actively and flexibly adapting to unpredictable changes, stabilizing macro-economy, and improving the economy's resilience;
Secondly, to build an independent and self-reliant economy with increasingly deeper, effective, and practical integration into the world;
Thirdly, to increase the optimization of new growth drivers, maximize domestic and international financial and technological resources through climate agreements, carry out green transition, shift to a circular and low-carbon economy with digital transformation, strongly develop science - technology and innovation, and build an innovation and startup ecosystem.
UNDP stands ready to assist Viet Nam in priority areas
Earlier the same day, Deputy Prime Minister Tran Hong Ha hosted a reception for Administrator of the United Nations Development Program (UNDP) Achim Steiner.
He expressed the gratitude to the international organization for supporting Viet Nam over the past nearly 50 years.
Viet Nam, said Mr. Tran, is determined to actively carry out the commitments at COP26, including achieving net-zero emissions by 2050.
He asked UNDP to continue giving advice so that the country can successfully implement the Just Energy Transition Partnership (JETP) agreement, manage and efficiently use water resources, and strengthen the resilience and climate change response in the Mekong River basin.
In reply, Steiner highly valued Viet Nam's effective implementation of socio-economic programs and policies on green transition and climate change response.

UNDP is pleased to be a cooperation partner of Viet Nam and ready to assist the country in priority areas, he said./.