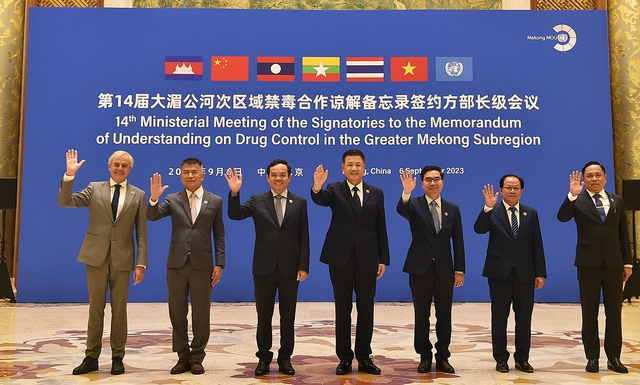 The Conference reviewed the region's drug prevention cooperation over the past 30 years, summarized valuable experiences, and emphasized the importance of regional cooperation in drug combat.
At the meeting, Deputy PM Tran Luu Quang assessed that over the past three decades, the Mekong sub-region countries' cooperative mechanism in drug prevention and control has achieved essential outcomes, helping to ensure security and order, promote socio-economic development, reduce poverty, and improve the quality of life for the people of the member countries.
As a responsible member, Viet Nam has issued a range of policies with long-term goals, including the national drug prevention and control program for 2021-2025, and passed the drug prevention and control law in 2021.
The country has also strengthened cooperation with countries worldwide to address drug-related issues and actively participated in regional and international cooperation mechanisms.
Viet Nam supports the uncompromising stance against drugs and continues to pursue a long-term goal of creating a drug-free region.
Drugs seriously challenge the spirit of strictly abiding by the laws
The Deputy Prime Minister stated that drug production, trading, transportation, and use in the region and the world had recently become highly complicated.
Illegal production, trading, and transportation of narcotics, especially synthetic drugs, continue to increase. Meanwhile, the treatment for addicts and drug users has not yet met the actual situation.
This is an international issue that no single country can solve on its own. It requires close international cooperation and comprehensive approaches, with collaboration respecting international law, sovereignty, territorial integrity, non-interference in internal affairs, and mutual support.
Strengthen cooperation for a drug-free region
To promptly address the challenges posed by the drug situation, Tran suggested member countries continue to demonstrate unity and consensus in their views and positions on global drug control policies, actively contribute their voices to the concerted efforts of the international community, and support the role of the UNODC in policymaking on drug prevention and control.
Additionally, they should enhance the quality of their information exchange and support each other's capacity building, among many others.
They should improve the quality of information exchange, support each other's capacity building, share experiences, and conduct joint investigations and collaborative projects.
The Vietnamese Deputy PM hoped that the UNODC would continue to play a constructive role in building regional cooperation programs and efficiently managing resources. He also called for support and the development of future effective drug prevention and control initiatives.
Besides, the senior official affirmed that Viet Nam is determined and committed to enhancing cooperation with UNODC, Mekong sub-region countries, and the international community in drug prevention and control efforts, striving towards the common goals of peace, stability, prosperity, and the building of a drug-free region.
Notably, the Conference adopted the 12th sub-regional action plan, the Beijing Declaration, and China's initiative to settle synthetic drug issues in the Mekong Sub-region./.