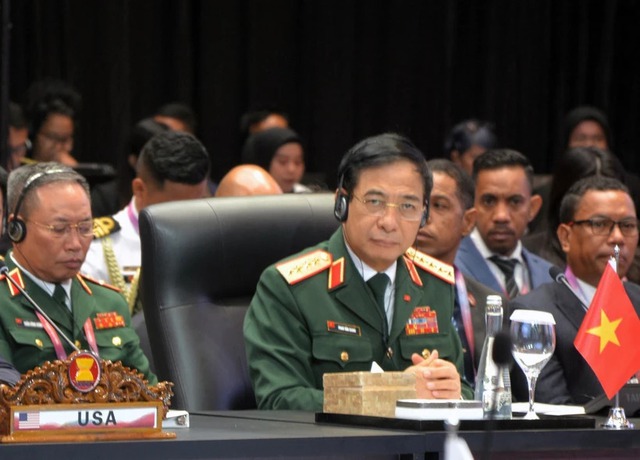 Addressing the 10th ASEAN Defense Ministers' Meeting Plus (ADMM+) in Jakarta, General Phan Van Giang called on countries to persevere in resolving disputes peacefully through open and substantive dialogue so that ADMM+ will always be a bridge for the parties.
He looks forward to closer links between ADMM+ and other cooperation frameworks in the three pillars of the ASEAN Community; creating a favorable environment for the serious and full implementation of the Declaration on the Conduct of Parties in the East Sea (DOC), soon achieving a substantive and effective Code of Conduct (COC) in line with international law, including the UNCLOS 1982; contributing to maintaining peace, stability, security, safety, and freedom of navigation and aviation in the East Sea.
On this occasion, General Phan Van Giang respectfully invited defence leaders, defence industry enterprises from ASEAN countries and partner countries to attend the second Viet Nam International Defense Exhibition, on the occasion of the 80th anniversary of the founding of the Viet Nam People's Army in December 2024.
At the meeting, the delegates heard the announcement of countries co-chairing the ADMM+ Expert Group for the 2024-2027 term.
On the occasion, the ADMM-Plus adopted the Joint Statement on Women, Peace and Security (WPS).
At the end of the meeting, host country Indonesia handed over the Chairmanship of the ASEAN Defense Ministers' Meeting (ADMM) and ADMM-Plus to Laos, the ASEAN Chair in 2024.
The ADMM-Plus is a platform for ASEAN and its eight Dialogue Partners Australia, China, India, Japan, New Zealand, South Korea, Russia and the United States (collectively referred to as the "Plus Countries"), to strengthen security and defence cooperation for peace, stability, and development in the region.
The Inaugural ADMM-Plus was convened in Ha Noi, Viet Nam, on October 12, 2010./.