Prime Minister meets Qatari and Singaporean leaders on ASEAN-GCC Summit sidelines
VGP - Prime Minister Pham Minh Chinh had separate meetings with leaders of Qatar, Singapore and Cambodia in Riyadh, Saudi Arabia on October 20 as they gathered there for the first ASEAN- Gulf Cooperation Council (GCC) Summit.
October 21, 2023 7:40 AM GMT+7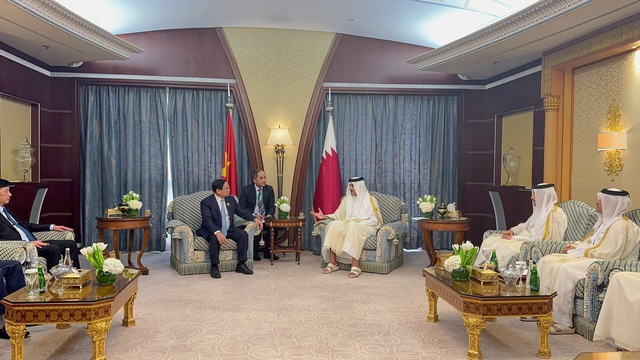 At the meeting Emir of Qatar Sheikh Tamim bin Hamad al-Thani and Prime Minister Sheikh Mohammed bin Abdulrahman al-Thani, Pham reiterated that Viet Nam treasures cooperation with Qatar, a crucial partner of Viet Nam in the Middle East.
He expressed wish to welcome the Emir of Qatar to Viet Nam in November this year to discuss ways to boost cooperation in trade, investment and labor.
Viet Nam and Qatar enjoy huge potential for stronger cooperation, especially in investment, noted the Vietnamese leader, affirming that Viet Nam stands ready to create favorable conditions for Qatari enterprises and investment funds, particularly the Qatar Investment Authority, to raise their investments in Viet Nam via various forms.
The Emir of Qatar spoke highly of the global role and status of Viet Nam, expressed his willingness to remove any barriers to further foster Viet Nam-Qatar cooperation, especially in areas proposed by the Vietnamese Prime Minister.
Both sides consented to establish joint working groups in potential areas such as digital transformation, renewable energy, infrastructure, and sign agreements that facilitate the entry of citizens from both countries to step up bilateral ties in the near future.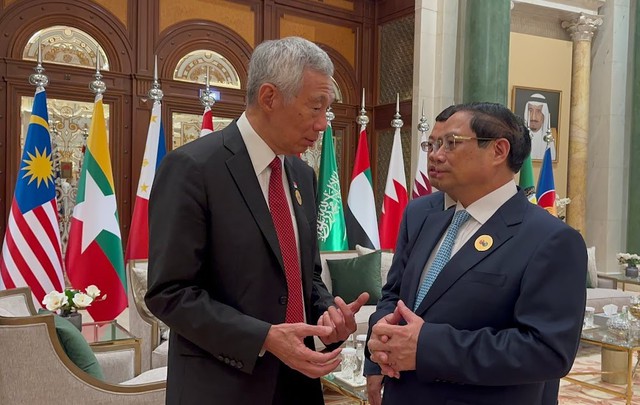 During the meeting between Prime Minister Pham and his Singaporean counterpart Lee Hsien Loong, both sides discussed orientations to upgrade bilateral relationship to a comprehensive strategic partnership at an appropriate time.
They hailed positive contributions of the Viet Nam-Singapore Industrial Park (VSIP) and agreed to instruct their relevant agencies to explore the possibility of establishing an association of both countries' industrial zones, thereby improving the efficiency of VSIP operations towards smart, green and sustainable manner, and promoting the development of industrial-urban ecosystems.
Both leaders pledged to work together to build a shared database between the two countries to step up the digital transformation process.
They emphasized the importance of promoting people-to-people links, including among youth.
Lee hailed Viet Nam's huge potential in renewable energy, particularly wind and solar power while Pham thanked Singapore for licensing the supply of clean electricity from Viet Nam to Singapore./.