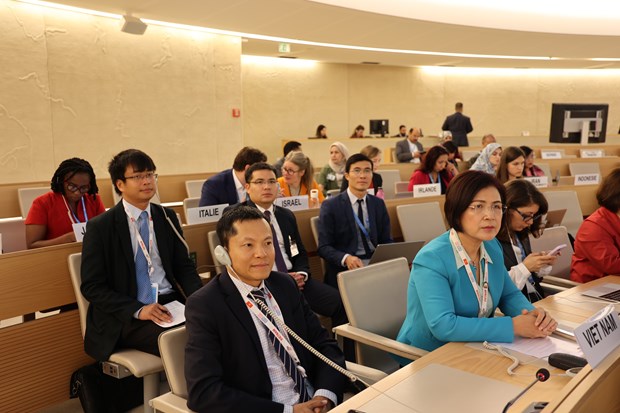 The September 13 debate was part of the 54th regular session of the UN Human Rights Council (UNHRC).
Ambassador Le Thi Tuyet Mai, Permanent Representative of Viet Nam to the UN, the World Trade Organisation (WTO), and other international organizations in Geneva, spoke highly of the active role of and efforts by the High Commissioner in stepping up the UNHRC's activities, affirming the country's support for activities of the High Commissioner Office to promote and protect human rights for all.
The diplomat emphasized Viet Nam's policy on promoting and protecting all people's enjoyment of human rights, along with its development policy that centers on the people and views them as the main stakeholder, goal, and development momentum.
Viet Nam perceives that it is necessary to promote initiatives and actions at national, regional, and international levels to resolve adverse impacts of global challenges such as climate change and food insecurity.
Besides, Ambassador Le Thi Tuyet Mai stressed the need to settle political divisions and differences and foster cooperation and trust building through activities of the UNHRC as one of the measures to ensure that people worldwide can fully enjoy Human Rights.
She also added that Viet Nam is committed to boosting substantive dialogue and practical cooperation with all member states and human rights mechanisms of the UN.
The country supports universality, equality, objectivity, impartiality, and non-intervention in countries' internal affairs.
Notably, Viet Nam holds that dialogue, substantive cooperation, and adherence to the abovementioned principles form the most effective way to promote and protect Human Rights for sustainable development.
During the UNHRC's 54th session in Geneva from September 11 to October 13, Viet Nam has enhanced its participation as a UNHRC member in the 2023 - 2025 tenure. A focus Viet Nam has promoted during the session is the right to health.
Accordingly, the country has contributed to a joint speech at the discussion on promoting human rights via immunization and held an international seminar on this topic.
The 54th session, organized in a hybrid format, is the last regular session of the UNHRC this year./.