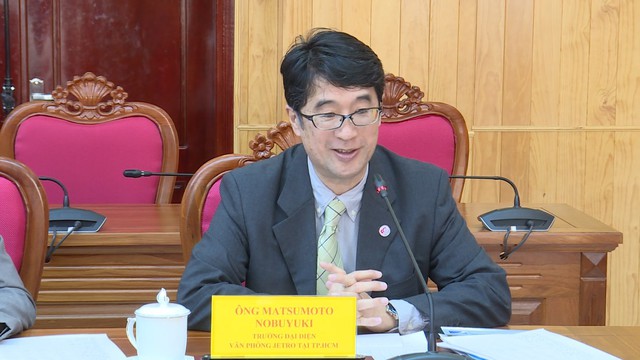 Mr. Matsumoto Nobuyuki made the assessment on the threshold of the Vietnamese Prime Minister's attendance to the expanded G7 Summit scheduled on May 19-21 in Japan.
The fact that Prime Minister Pham Minh Chinh has been invited to the expanded G7 Summit shows how important Viet Nam is for Japan.
This year is also the 50th anniversary of the establishment of diplomatic relations between Viet Nam and Japan, and such visits by government officials and active economic and cultural exchanges will deepen mutual understanding and accelerate these trends.
Bilateral trade has been growing steadily every year, with imports and exports nearly in balance. This is considered to indicate the integration of the supply chains of both countries. Last year, two-way trade reached nearly US$ 50 billion, making Japan the fourth largest trade partner of Viet Nam of which Viet Nam shipped nearly US$ 25 billion of goods to "the land of the rising sun".

Thus, Viet Nam is expected to play a very important role in the supply chain of Japanese companies, which is due to the bitter experience of the pandemic.
However, the Vietnamese and Japanese Governments have learned from that experience and are working closely together to prevent supply chain disruptions.
"I am very grateful for the efforts of the Vietnamese government, and I believe that this attitude is attracting more Japanese companies to invest in Viet Nam," said Mr. Matsumoto Nobuyuki.
Three suggestions for better business environment
On the other hand, there are still many issues to be resolved. In particular, the following are urgent issues that need to be urgently addressed, especially in light of recent advances in high-value-added industries.
Firstly, improvement of transparency and efficiency of administrative procedures
When companies start to expand into Viet Nam, they need to obtain various permits, but the procedures are extremely complicated and opaque. Therefore, it takes a lot of time to get permits such as investment and work permits, and it means the human costs incurred during the process are also huge. Even if you have started your research with the intention of investing in Viet Nam, you may end up giving up on the investment due to these issues related to permits.
To cite a specific example, there was a recent case in which an investment permit was obtained, state-of-the-art production equipment was imported, and all that remained was to install the equipment, but the permit could not be obtained. Such cases are being closely watched not only by the company in question but also by other Japanese companies, and this is a hindrance to the momentum for strengthening Japan-Viet Nam economic relations. We hope that the Vietnamese government will improve the transparency and efficiency of administrative procedures.
Secondly, the need for high-level human resource development and deeper cooperation between educational institutions and private companies
High value-added industries require not only workers but also excellent human resources who can operate, maintain, and inspect the advanced production facility that has been introduced.
Specifically, they are looking for people who have studied mechanical engineering and electrical engineering at university. In addition, many small and medium-sized enterprises (SMEs) are entering these fields, and the language barrier is often a problem for these companies, so demand for personnel with Japanese language skills will continue to be high.
On the other hand, there are few channels for access to such human resources, with the exception of a few universities.
Companies usually post recruitment advertisements on SNS or ask staffing agencies for introductions, but we would like to encourage universities and other educational institutions to deepen their cooperation with companies.
The human resources required by companies are constantly changing, just like the speed of technological progress in recent years.
Therefore, it is important to respond to such needs by flexibly changing curricula. In some cases, companies have lent state-of-the-art production equipment for practical training, and we would like to see the promotion of consistent cooperation from internship to employment.
Thirdly, early development of industrial parks
To be included in the global supply chain means to be a production base for the global market, and it is important to have the infrastructure to be able to supply the global market.
In addition, because high-value-added industries in particular require a large number of well-educated labor force, the areas in which these industries are expanding are inevitably limited to large cities and their surrounding areas.
However, the occupancy rate of existing industrial parks in these areas is very high, and there is currently no space available for those who wish to expand into Vietnam. Although there are plans to develop new industrial parks, few have even begun construction, and if this situation continues, there will be no place for those who want to expand their businesses.
We would like to request the Vietnamese government to start development of industrial parks as soon as possible, especially in Ho Chi Minh City and its surrounding provinces, where infrastructure is well-developed./.