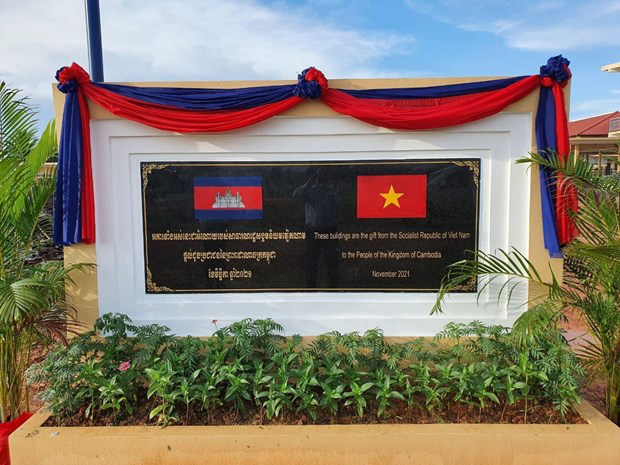 The rehabilitation center costs more than US$7.4 million, including US$3 million funded by the Vietnamese Government and US$1 million by Thailand.
Covering 20ha in Stung Hao district, the drug treatment and rehabilitation center would accommodate around 1,200 people.
Addressing the event, Cambodian Deputy Prime Minister Ke Kim Yan noted that nearly 4.7 tons of drugs were seized in the country last year, adding that in Januayr 2022 only, the country detected three illegal drug production plants in the capital city of Phnom Penh and Kampong Speu, grasping 166 tons of substances used for the production of synthetic drugs.
Ke Kim Yan took the occasion to thank the Vietnamese Government, organizations and individuals for their support in the construction.
In his remarks, Vietnamese Ambassador to Cambodia Nguyen Huy Tang underscored that the center demonstrates cooperation between the two countries in drug rehabilitation and social affairs in general, particularly on the occasion of the Viet Nam-Cambodia and Cambodia–Viet Nam Friendship Year in 2022 and the 55th founding anniversary of diplomatic ties.
Viet Nam stands ready to further cooperate and share its experience with Cambodia in drug rehabilitation as well as vocational training for drug addicts, he affirmed./.