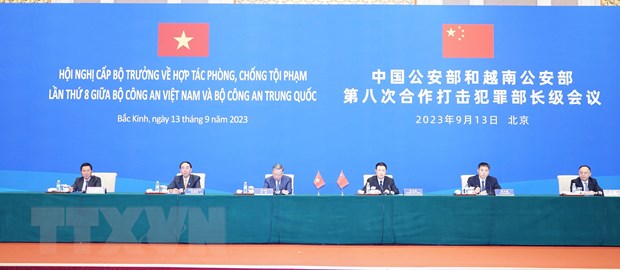 According to the report delivered at the conference, the two nations' functional agencies have worked together to fight and suppress drug crimes and illegal immigration activities, bringing about positive outcomes, contributing to reducing transnational crimes between the two countries.
They vowed to continue fostering stronger ties to ensure security and safety for the organization of crucial events, combating transnational crimes such as drug crimes, economic crimes, human trafficking, telecom fraud, conducting joint patrol and strictly controling border immigration activities.
The two ministers pledged to promote and strengthen security and law enforcement cooperation and implement the agreements reached by the two sides to effectively fight transnational crime.
They asserted to enhance the sharing of information and experience in the field of population management, social management on digital platforms, and deploy online public services.
Following the event, they signed the minutes of the conference and a Memorandum of Understanding on prevention and control of transnational gambling between the two ministries.
The same day, To Lam paid a courtesy call on member of the Politburo Standing Committee, Secretary of the Secretariat of the Communist Party of China (CPC) Central Committee and Director of the General Office of the CPC Central Committee Cai Qi.
Cai Qi hailed the development of cooperative ties between the two Parties and countries across all sectors in the spirit of the Viet Nam-China comprehensive strategic cooperative partnership.
For his part, To Lam said, the Vietnamese Ministry of Public Security and Chinese security and legal enforcement agencies will actively carry out the agreements and plans signed between the two countries.
He pledged to uphold the effectiveness of mechanisms such as ministerial conference on crime prevention and control, strategic security dialogue at the deputy ministerial level; and coordinate effectively in combating transnational crimes.
Also the same day, To Lam met with Commander of the People's Armed Police Wang Chunning.