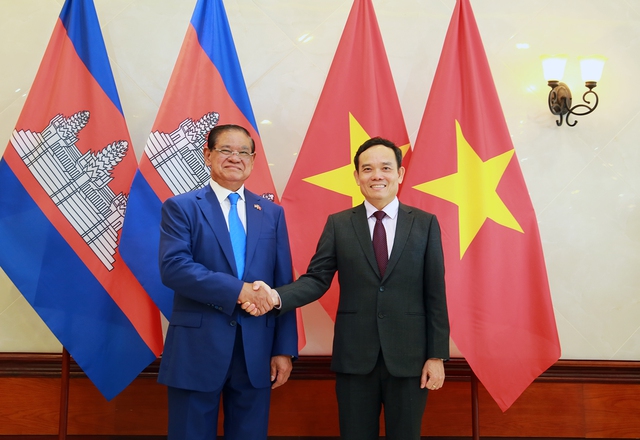 The commitment was reached by Deputy Prime Minister Tran Luu Quang and Cambodian Deputy Prime Minister and Minister of the Iterior Samdech Krolahom Sar Kheng at the 12th Viet Nam-Cambodia Conference on Cooperation and Development of border provinces, held in the southern province of Tay Ninh on April 25.
The two Deputy Prime Ministers expressed their delight on fruitful cooperation achievements between the two countries since the previous conference which took place in October 2021.

Economic, trade and investment cooperation is one of the spotlights in Viet Nam -Cambodia relations. The two-way trade value hit over US$10.57 billion in 2022, up nearly 11 percent against 2021, making Viet Nam the third largest trade partner of Cambodia.
So far, Viet Nam has poured US$2.94 billion in 205 projects in the neighboring country, making it the biggest ASEAN investor and among the five biggest investors in Cambodia.
A number of activities were successfully organized to celebrate the Friendship Year 2022 and marking the 55th anniversary of the two countries' diplomatic ties (June 24, 1967).
The two nations inked the Agreement on Border Trade on the occasion of Prime Minister Pham Minh Chinh's official visit to Cambodia in November last year, which is expected to further boost bilateral trade.
Regarding cooperation orientations for border localities in the upcoming time, the two sides tasked their relevant ministries, agencies and localities to work together to complete and establish appropriate legal frameworks and cooperation mechanisms to facilitate collaboration between border localities.
They reaffirmed the principle of not allowing any hostile forces to use one's territory to harm or damage the interests of the other country, underscoring the necessity of enhancing communications among local authorities and people to build the shared land border line of peace, friendship, stability, cooperation and sustainable development.
They vowed to encourage their enterprises to seek for opportunities to develop Cambodia–Viet Nam Special Economic Zone in Cambodian border provinces.
The two sides called on border localities to continue fostering coordination in fields of transport, agro-aquatic-forestry sector, water resources and meteorology, energy, education, social work, culture, sports, tourism, health, justice, information and communications.
Both sides agreed that the next conference will be held in Cambodia in 2024./.