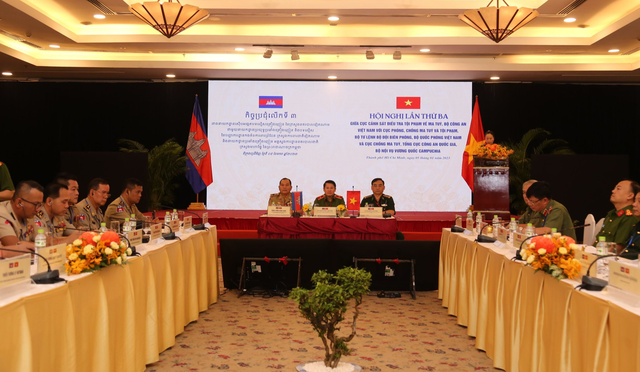 Addressing the event, Director of the Counter-Narcotics Police Department (C04) under the Public Security Ministry Nguyen Van Vien, said the cooperation between Viet Nam and Cambodia has been fruitful.
Last year, the C04 coordinated with the Anti-Drug Crime Department under Cambodia's Ministry of Interior to raid four major drug trafficking rings. Police in 10 localities along the Viet Nam-Cambodia border detected more than 2,000 other cases involving more than 3,000 persons.
Lieutenant General Khing Sarat, Director of the Anti-Drug Crime Department of Cambodia, highlighted the efficiency of information exchange between the two sides at national and local levels in recent years.
As a result, Cambodian authorities conducted a spate of successful raids, arrested suspects, and seized a variety of elicit drugs.
He said that in order to further the effectiveness of anti-drug crime activities along the Viet Nam-Cambodia border, the Cambodian side will continue to focus on fine-tuning investigation into major cases to hunt down ring leaders. They will also endeavor to strengthen measures to control the import and trading of precursor chemicals to elicit drugs.
Major General Vien said that the two should increase the exchange of drug-related information in a regular, accurate and timely manner through hotlines between the two countries and Border Liaison Offices (BLO) in border localities.
In the time to come, the C04 will coordinate with Cambodian police to conduct joint anti-drug operations and arrest criminals, he said, adding that currently, 16 such criminals are on the run in Cambodia.
The two countries also agreed to support and enhance the capacity of officials in the field of drug crime suppression and control as well as to assign delegations to study and exchange experiences.
In addition, the two sides agreed to continue to hold annual rotating meetings to evaluate the results of cooperation and resolve all remaining issues in the prevention and suppression of drug crimes in the two countries. They agreed that the fourth meeting in 2024 will be held in Viet Nam.