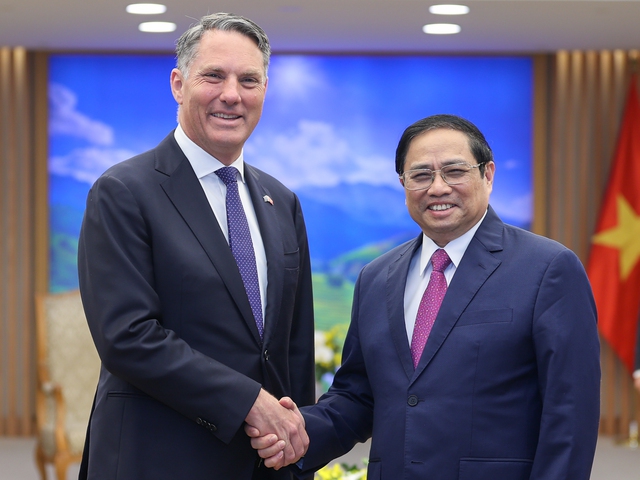 The Vietnamese Government chief on November 25 hosted a reception for Australian Deputy Prime Minister and Defense Minister Richard Donald Males, who is on a visit to Viet Nam.
He welcomed the Australian guest's visit in the context the two countries looking forward to the 50th founding anniversary of diplomatic relations in 2023.
Viet Nam, said the Prime Minister, consistently adheres to the foreign policy of independence, self-reliance, diversification and multilateralization, and being a good friend, a reliable partner and a responsible member of the international community.
Viet Nam always attaches importance to the relations with Australia and highly appreciates Australia's potential and position in the international arena, emphasized Pham.
Pham expressed his delight at the strong development of fruitful bilateral cooperation, in accordance with the cooperation documents signed between the two countries.
He spoke highly of the results of defense cooperation between the two countries over the past time, especially in training, UN peacekeeping, military medicine, information sharing and experience exchange between the two countries' troops and services, and joint efforts to overcome war consequences and cooperation within the framework of multilateral mechanisms, especially the ASEAN Defense Ministers' Meeting Plus (ADMM+).
Pham thanked for Australia's timely support for Viet Nam in COVID-19 prevention and control and in the field of peacekeeping, especially in the transport of the level 2 field hospital to the United Nations Mission in South Sudan.
He suggested the two sides continue carrying out existing areas of cooperation in accordance with the signed agreements, with a focus on holding high-level meetings and exchange activities, especially preparations for the upcoming visit to Australia of National Assembly Chairman Vuong Dinh Hue.
He said the two sides should give priority to stepping up UN peacekeeping cooperation, while asking Australia to continue supporting the transport of Viet Nam's Level 2 field hospital to South Sudan in 2023.
In reply, Australian Deputy Prime Minister and Defense Minister Richard Donald Males expressed his pleasure to witness the outstanding development of Viet Nam, especially compared to 30 years ago when he came to Viet Nam.
The Australian Defense Minister suggested that the two countries upgrade their relationship to a comprehensive strategic partnership in 2023 - the year Viet Nam and Australia celebrate the 50th anniversary of their diplomatic ties.
He suggested both sides should accelerate the enforcement the Comprehensive and Progressive Agreement for Trans-Pacific Partnership (CPTPP), the Regional Comprehensive Economic Partnership (RCEP) and other cooperation mechanisms to take bilateral cooperation to new heights, especially in the fields of trade, investment, climate change response, education, training, defense and security./.