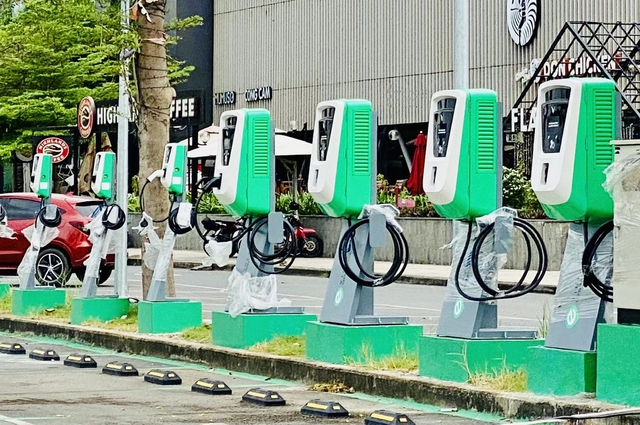 This research was based on the cost of charging the latest-gen Hyundai Kona EV in 50 countries across the world, ranking them based on the cost of electricity used per 100km of driving. It also calculated how much one can save in fuel costs by driving an EV instead of an Internal Combustion Engine (ICE) vehicle.
Under the survey, Vietnamese EV owners spend only AUD1.55, roughly US$1, for every 100 kilometers on an EV charge.
Argentina topped the list as the most affordable country for EV charging, where it costs at US$0.70 to fully charge an EV, followed by Malaysia at US$0.97 and India at US$1.42.
Denmark and Italy were chosen as the nations with the highest EV charging costs, where a full charge for the same vehicle model stands at US$11.26.
Viet Nam's electric vehicle adoption stood at 2.9 percent in 2022. The rate was forecast to reach 13.6 percent by 2030 thanks to a boost in production from both domestic and foreign companies.
Electric vehicle sales are expected to average 25.8 percent annual growth over 2023-2032, and by 2032 reach up to 65,000 units, a nearly eight-fold surge from 2022, according to BMI Research, a Fitch Solutions unit.
The production of VinFast, Wuling HongGuang, Skoda and Hyundai-branded EVs from 2023-2032 will drive strong growth in the market, it said.
Viet Nam's EV charging network is expanding, and although VinFast is currently dominating this industry, more players are set to compete starting this year.
Foxconn had earlier announced that it would build an EV charging and component production plant in Viet Nam through an investment of US$250 million which would help facilitate a more rapid expansion of the charging industry./.