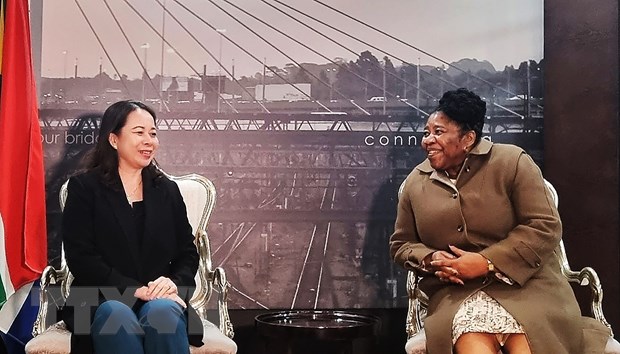 Within the visit, Vo is scheduled to hold talks with her South African counterpart, and meet the African National Congress secretary general, the General Secretary of the South African Communist Party, the President at South African Chamber of Commerce and Industry and South African enterprises.
She will attend the inauguration ceremony of the Viet Nam cultural space in South Africa and a ceremony on the celebration of the 78th anniversary of Viet Nam's National Day and 30th anniversary of Viet Nam-Africa diplomatic ties.
The Vice President's visit to South Africa is significant event, contributing to tightening the good traditional friendship between the two nations and creating impetus for both sides to promote substantive and effective cooperation.
According to Vietnamese Ambassador to South Africa Hoang Sy Cuong, over the last 30 years, relations between their Parties, States, and peoples have been growing well while multifaceted cooperation has been reinforced and reaped good results.
They have also coordinated with and supported each other at many important international forums such as the United Nations, the Non-Aligned Movement, and the South-South Cooperation.
In July 2023, Viet Nam actively promoted the recognition of South Africa as a sectoral dialogue partner of ASEAN. South Africa also supported Viet Nam to become an observer of the African Union in 2022. Holding the rotating presidency of BRICS, South Africa invited Viet Nam to attend the BRICS Summit on August 24, 2023.
Regarding economic links, the ambassador said bilateral trade rose six-fold to nearly US$1.3 billion in 2022 from US$192 million in 2007./.