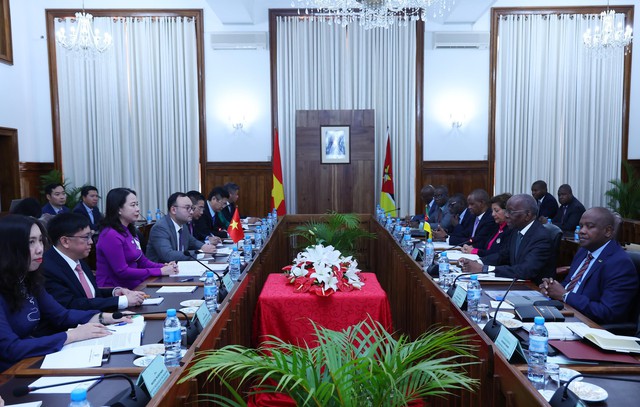 Vo asserted that Viet Nam always treasures the traditional friendship and cooperation with Mozambique, regarding Mozambique as a majo partner in Africa. She recommended both nations strengthen collaboration in mineral sector.
Adriano Maleiane reiterated that Mozambique considers Viet Nam as one of its prioritized partners in Asia.
He suggested Viet Nam invest in infrastructure and transport in Mozambique, committing to early signing a memorandum of understanding on coal trade with Viet Nam.
The host emphasized the need to increase scholarships, enhance cultural exchanges, promote trans-national crime prevention and protection of wild animals.
Both sides vowed to maintain delegation exchanges at all levels, particularly the high-ranking one, and via all channels, including Parties, States and parliaments.
The two leaders agreed that bilateral cooperation in telecommunications, remarkably Movitel-a joint venture between Viet Nam's Viettel Group and Mozambique's SPI company and Viet Nam's food crop development cooperation in Mozambique have become spotlights in bilateral relations.
They also hailed positive achievements in the bilateral cooperation in terms of trade, education-training, and healthcare.
Both leaders pledged to actively implement the outcomes of the phone conversation between Party General Secretary Nguyen Phu Trong and Chairman of the FRELIMO Party, President of Mozambique in June 2022 and the 4th meeting of the Viet Nam-Mozambique Intergovernmental Committee in May 2023 and actively support each other at regional and multilateral forums.
The two leaders expressed their determination to further increase bilateral trade turnover to match their potentials through facilitating the sale of products in each other markets.
The two leaders pledged to encourage their businesses to bolster collaboration, including Movitel to expand investment and business in Mozambique.
They also agreed to continue regarding agriculture, including aquaculture, as a key area of cooperation to contribute to ensuring the world's supply chain and food security./.